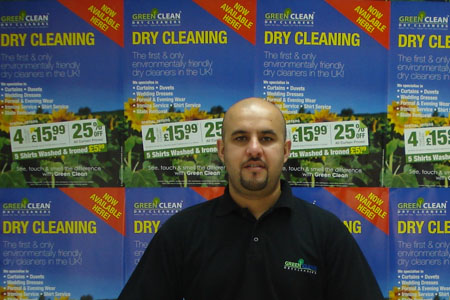 Green Revolution
Issue 57 June 2009
Cleaning your clothes does not have to cost the earth. Myriam Francois-Cerrah discovers an ambitious entrepeneur whose innovative ideas are transforming the dry cleaning industry.
As the global community becomes increasingly cognisant of the impact of pollutants on the world's water resources, industry leaders have sought innovative ways to reduce the detrimental impact of our lifestyle on the environment. Tooq Ahmed, a British Pakistani from Glasgow, who after years of slugging it in an office job, decided he wanted to live his dream of running his own business. "For the past half a decade," he explains, "I have been a budding entrepreneur in the guise of a regular Joe employee working for high profile firms in managerial positions. I was bursting to have a crack at my own business venture to provide the best for my family and accomplish more work for myself."
The idea that was to launch Green Clean came both from Tooq's own ecological concerns and his reflection over what kind of world he wanted to pass on to his children: "Over the last few years, the environment and our stewardship of the earth has been mov-ing up on everyone's priority list as our awareness of the severity of the situation becomes more acute. I think the point where I actively wanted to be a bigger part of the solution rather than part of the problem came about when my wife and I were discussing our future – even before we had made a definite decision about having kids." This concern for the environment tied in conveniently with another concern, shared by most professionals – how to find a good dry cleaner. Working in an office environment, Tooq was familiar with the range of dry cleaning services on offer but was dissatisfied by the quality and the damaging chemicals used, damage he found himself contributing to: "I used to work in a busy office environment in the heart of Glasgow City Centre – suited and booted five days a week; I was a regular user of dry cleaners. However, I was always left disappointed: suits came back with stains untouched, lacking a defining crease with an unpleasant residual odour. After trying all the chain dry cleaning outlets out there and experiencing disappointment I identified a gaping gap in the market."
Tooq's dissatisfaction led him to fill this gap: "This growing frustration at the lacklustre service combined with my desire to run my own business, prompted me to research the processes behind dry cleaning and identify ways for improvement. This is when my Green Clean concept was formed." Green Clean Dry Cleaners are the UK's first, and only, environmentally-friendly dry cleaners. Through an analysis of the impact of dry cleaning on the environment, Tooq and his team were able to devise an innovative alternative, reducing the carbon footprint of the machinery involved and eliminating dangerous chemical elements traditionally used in dry cleaning, such as 'prec', which recent research suggests could be carcinogenic. By teaming up with Glasgow Tree Lover's Society, the company identified locations within Glasgow that needed trees: "Before the end of the tree planting season in April, we will have rooted over a dozen trees in the ground. We will then begin strategising for a larger scale tree planting when the season reopens in October time."
Green Clean is also seeking to continuously improve its green credentials in the hope of one day completely neutralising the company's impact on the environment. It currently operates a coat hanger recycling scheme, runs its energy from EDF wind mills, uses degradable and recyclable packaging as well as offering a home delivery service, reducing pollution by ensuring one van does the work otherwise undertaken by several.
Going green wasn't as easy as it seemed and Tooq faced difficulties in balancing his eco ambitions and the realities of running a profitable business. Like any new business, he faced the usual obstacles of identifying an ideal location for his flagship store, eventu-ally deciding on Kingston Street in Glasgow. However the hardest element was balancing his green aspirations with economic reali-ties, which led Tooq to short term compromise in the short-term to make viable business returns, whilst all the time seeking to make the business comprehensively green in the long-term: "For a company that differentiates itself within its industry through offering an environmentally friendly process, it is imperative that we continue to strive to be as green as possible. Thus, Green Clean's policy clearly defines those areas where improvements are needed within a realistic timeframe. We have numerous green initiatives that we are looking to develop, including the recycling of wire coat hangers, and researching local community clean up projects, in view of making Glasgow not only greener but cleaner as well. It is envisaged that both will be well underway by the end of 2009." In the mean-time, the company has successfully pioneered eco-friendlier methods without increasing the monetary cost to the consumer.
The source of Tooq's success is clearly located in a number of key factors. His venture into the dry cleaning industry was not de-void of rationale. Tooq had studied the market and noted that the industry is a lucrative one. Indeed, for the last 20 years or so the industry has experienced a steady growth but, had seen no substantial innovation in its green credentials. He realised that entering the established world of dry cleaners with a technological innovation would allow Green Clean to forge a substantial niche market, an opportunity he seized. His current success and plans for future expansion are testimony to the insight afforded by his natural business acumen. He describes his wife, family and friends as having provided him with tremendous support, and he himself as immensely driven. When asked whom he looks to for aspiration, he states: "I draw inspiration from the big guns – people like Richard Branson, Anita Ruddock, and The Dragons' Den."
And Tooq doesn't plan to stop there: "The Green Clean revolution looks set to make Glasgow a little greener by offering a much needed environmentally friendly alternative to traditional dry cleaning methods. Naturally, we are also keeping our eyes peeled for other green opportunities out there, and hope to go nationwide someday."
Bring on the green revolution!
Share this


Link to this
Printer Friendly