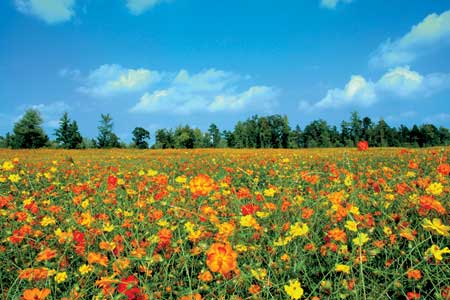 Good Life Express, Episode 16 - Wild About Flowers
Issue 58 July 2009
Join Sarah Joseph as she turns an unsightly patch of weeds into a wonderful wildflower garden.
Time has been rather tight in recent weeks, so getting into the garden has been trickier than normal. Other than looking after the chickens, feeding the fish and nurturing some strawberries, lettuce, herbs and my hanging baskets filled with annuals, I have not been particularly productive. My wonderful raised beds are seeing little more than giant mustard leaves. I fret not as I know that an English summer is always late to start and thus there is still time for planting this year's cabbages, sweet corn and beans.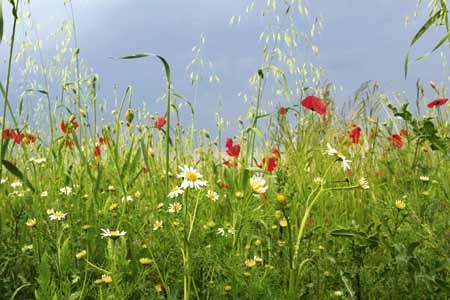 There has, however, been an unexpected bonus to my lack of time. A patch of land that I had cleared last year has begun to sprout with weeds. Once might wonder at how this could possibly be a bonus, but there really are some advantages. Firstly, some of the weeds are really rather pretty and secondly they seem to be encouraging some beneficial wildlife into the garden. As an organic garden requires an array of birds, frogs, hedgehogs and friendly insects to build the ecosystem necessary to keep destructive insects at bay, the weeds seem to be working quite well. Indeed, with a small amount of effort I have decided to turn this unloved area into something resembling a wildflower garden.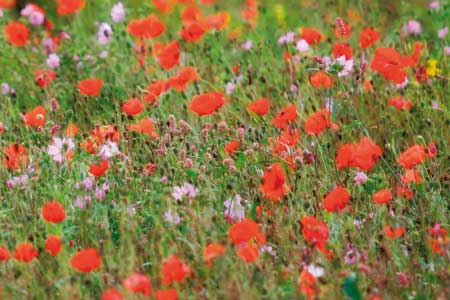 Wildflower gardens are all the rage with a host of T.V. gardeners turning their hands to them. There is also genuine interest in them at an organic gardening level. The jolly and whimsical flowers of yesteryear that often make up a wildflower garden display are loved by the birds and the bees, not to mention the ladybirds and the lacewings. Given that female lacewing lays about 300 eggs, and each developing larva eats between 1000 and 10,000 aphids in its lifetime, this is really good news.
So, I removed the unwanted weeds such as couch grass and nettles from my unloved patch. Then I simply mixed a packet of wildflower seeds with sand and sprinkled this amongst the pretty weeds. I have no idea if the field poppies, field cornflowers and corn marigolds will germinate and flower, but if they do I will have a stunning wildflower display instead of a patch of weeds.
Chick Diary
Healed Hen
When Babs had her wing ripped off by the fox and Ginny hurt her leg, there were a few weeks when I seriously contemplated having them both put down. I found the decision hard though, and so long as they were both eating and moving around we decided to just keep caring for them and see how things went. One evening however I looked at Babs. Despite the salt water baths and gentian violet sprays, not only did the ripped off wing appear infected, her other feathers looked as if they were going mouldy. It was really distressing. Simultaneously we tried two things: I fed her with huge quantities of garlic, which is a natural anti-biotic, and my husband poured Zam-Zam water all over her. Now I can't possibly say which sorted out dear Babs, but I will say that her infection cleared, as did the mould, and she is now a rich chestnut brown hen with fantastic feather growth who is laying every day.

Eggs Galore
I should not complain but I am drowning in eggs. The six are giving six eggs every day now, and even the four dear ex-battery hens, dispensed with by the farmer for being "unproductive" are giving me three and sometimes four eggs a day. Now there is no way we can get through ten eggs a day, even with the amount of baking we do. The upside is that the children's teachers all have eggs, as do the neighbours. Maybe I should get the children to sell them; the money raised could contribute to the hen's food. With all their laying, they are eating loads too!

Cyber Garden
I can't always get into the garden as much as I would like, especially during the week, which means I do get a little bit frustrated. To salve my garden yearning on those days I can't get outside, my daughter has found a virtual garden online. You can plant, water and harvest plants. Customers then purchase your produce in a cyber farmer's market, giving you revenue to clear away weeds, rocks, tree stumps, and moles, making your garden look beautiful.
My daughter has asked me to look after her garden when she's at a school trip… How could I say no? I am currently planting, watering and harvesting her plants online, and her cyber garden is blooming! If only they had some cyber chickens, I could sell eggs.

www.molehillempire.com

Share this


Link to this
Printer Friendly