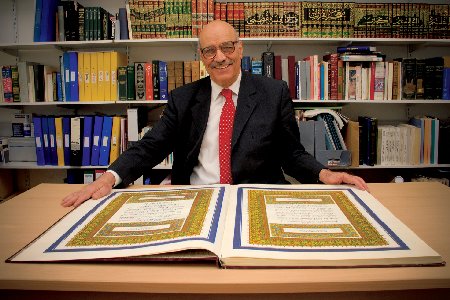 For those who reflect
Issue 60 September 2009
The month of mercy is a time to draw closer to the Qur'an. From the hafiz to the artist, and the teacher to the student, each person relates their special relationship with the Sacred Word. Remona Aly hears from individuals who seek to unlock its wisdom and beauty.
photography Nazrul Islam
The Qur'an is the heart of Islam, the life energy that lies at the centre of every Muslim's core. It is said that if you wish to speak to God, you pray, and if you wish to hear God, you read the Qur'an. Every person who hears the Word responds in their own way. Each ayah, each chapter, even each letter holds its own unique significance.
The Holy Qur'an speaks to mankind of the creation of the heavens and the earth. It relates stories of Prophets, tells of God's angels and of jinns, and addresses issues of social justice and human dignity. Thousands upon thousands of volumes have been written and continue to be written on the Qur'an. For centuries, people have always drawn inspiration from its wisdom and express their findings through their own approaches. An artist seeks to glorify God's word through illumination and creativity; a hafiz commits the entire text to memory out of devotion and lovingly recites it every day; a teacher loyally imparts its messages to the minds and hearts of his students.
Ramadan is the month of the Qu'ran. It was first revealed during this sacred time to Prophet Muhammad in the cave of Hira. Since then its beautiful message has endured to reach generation after generation. The renowned 11th century Persian scholar Imam Al-Ghazali once said, 'Haven't you heard that the Qur'an is an ocean from which the knowledge of all ages branches out, just as rivers and streams branch out from the shores of the ocean?'
Each of us has the opportunity to wade in its pure waters and explore the extraordinary depths of this Holy Book. God tells us in the Qur'an, 'I am closer to you than your jugular vein.' As Ramadan has its own special status, this is the perfect time for us to draw closer to our Creator.
Qu'ran Facts
- Verses of the Qu'ran were written down during the Prophet's lifetime on animal skin, bone and palm risps
- Several hundred companions memorised the entire Qur'an
- Prophet Muhammad recited the whole Qur'an to the Archangel Gabriel once every Ramadan
- The Qu'ran was standardised during the caliphate of Uthman in 653.
- Dotting and other puntuation are said to have taken place in the 7th century
- The first English version of the Qur'an was made in 1649 by Alexander Ross who translated it from a - French version
We speak to five different individuals to understand their special relationship with the Qu'ran.
Professor Abdel Haleem, OBE - Director of the Centre of Islamic Studies at the School of Oriental and African Studies>
Samia Ahmed - working towards completion of her Ijazza at a higher level. She currently has permission to teach foundation level>
Shazeaa Ingar - Islamic calligraphy artist>
Jahangir Ahmed Yahya - 18 year old hafiz who started memorising the Qur'an as a child.>
Zubier Ismail - working on a project to help visually impaired children read the Qur'an in Braille>

Share this


Link to this
Printer Friendly