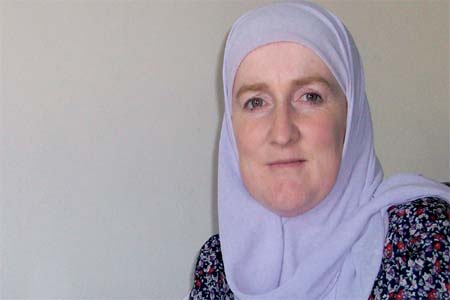 A week in a life of Julie Siddiqui
Issue 60 September 2009
Julie Siddiqui

As Vice President of the Islamic Society of Britain, government advisor, teacher, and mother of four, Julie Siddiqui has a lot to juggle. As a shortlisted member of the Muslim Women Power List, Julie tells us why sitting at home in her pyjamas is one of her favourite things.
"When people ask me how I juggle everything, my reply to them is usually, I don't!"
When I was asked to do a 'Week in the life of' piece for emel, my first thought was, how on earth will I sum up a week in my life when every day is different to the next?! Let me start at the beginning. My day starts with me always being the first one up. I grew up seeing my dear mum awake before us and I have taken the baton to continue the earlybird tradition.
I have four young children: Nusaybah, 11, Eesa, eight, Musa, six and Sumayah, three. I try to remain calm as we get ready for school. Breakfast, books, bags, lunch boxes, money for trips, letters for this that and the other – all in one morning. I remember a classic Monday morning once when Eesa was six. We had a hectic morning with a hundred things to do. We had done well, we were on time and everything was in place. Brilliant. I pulled proudly into the school just as Eesa piped up from the back of the car 'Mum, it's Walk to School week'. I looked at him from the rear view mirror and strained a smile.
As well as my busy family life, for the past few years I have been a member of the Islamic Society of Britain and am now Vice President. This national organisation works on a number of positive projects to improve the understanding of Muslims in Britain and help Muslims understand their important role here. In 2005, my name was put forward to be co-ordinator of the annual Weekend for Women. Of course, in voluntary work if you are willing to work or do something well you will find yourself being asked to do other things! Later that year, I was asked to take the reins for the national Islam Awareness Week. Juggling home, family and work is not easy but I manage, and I stick to the old saying 'Feel the Fear and Do It Anyway', which has held me in good stead as I go through my life.
I am so lucky to constantly be meeting interesting new people and experiencing different things. As a British Muslim, a mother, a wife, a teacher, an employee, a friend, a critic, an advisor, a daughter, a sister, a volunteer and more – each and every aspect of my life is important to me. I have recently found myself on the Times 100 Muslim Women Power List and I am now a South East representative on the National Muslim Women's Advisory Group. I have been to Downing Street and have metthe Foreign Secretary during the Gaza crisis.
All of those get a 'masha-Allah'and 'Well done' from people. It all sounds impressive I suppose but I see it only as an opportunity to be involved. I always see myself as someone who can make a difference, and not just watch and complain from the sidelines. The status of Muslim women and the misunderstandings about them are all deep and important issues for me. If my work can play any part in removing the barriers, in addressing the issues and in getting people to sit and meet and talk, then it will all be worth it.
I have to say that I am never more relaxed than when I sit on the sofa with my children, lounging in our pyjamas and enjoying a family 'film night' with take away pizza. One of Musa's favourite games is 'Happy Families' – the good old fashioned card game. So when I hear him say 'Mum, can we play Happy Families' I smile to myself thinking that is exactly what we do every day.
I love it when the housework is done, children are bathed, my reading is in order, time is spent with extended family and friends, and I am keeping fit all at the same time. Many times people will ask me, 'How do you manage to juggle everything?' My reply to them is usually, 'I don't'! But it's not possible to keep all that in order simultaneously. Sometimes you have to believe in yourself and let a few things drop.
Of course it requires support from my husband, family members and my kids who are well trained to 'go with the flow'. I feel fortunate to have all of that. My faith is what gives me guidance and I know that whether I am alone or in a crowd, the most important thing is that God is there and knows all that I do.
Share this


Link to this
Printer Friendly