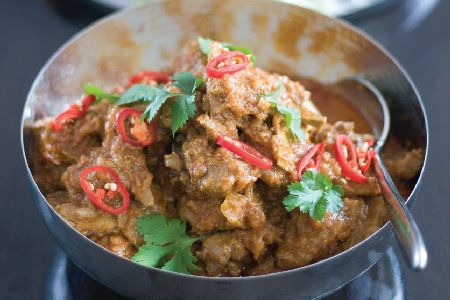 Love of Lamb - Recipes for Eid
Issue 62 November 2009
Marking the festive occasion of Eid al-Adha we have a banquet of lamb dishes to offer this month showing you deliciously different ways to cook the same meat.
Lamb – we're loving it!
Recipes this month include:
- Lamb Basella
- Aromatic Lamb and Tomato Curry
- Shepherds Pie with a Parmesan Topping
- Lamb and Mixed Pepper Stew
- Morroccan Spiced Roasted Lamb
- Rosemary Lamb Chops with Roasted Vegetables.

Recipes & food styling Ruwaida Randeree.
Photography Steven Lawson
To read the rest of these recipes, get your latest issue of emel magazine.> 1) Delivered to your door for only £3.50 with FREE Postage and Packaging
You can get your latest issue of emel with FREE Postage & Packaging.
Contact us now and we will send you the latest issue of emel for £3.50, with absolutely no extra cost for postage and packaging.
Call us on 020 7328 7300 or email info@emel.com.
2) Find your Local Stockist
Your latest issue of emel is also available in stores nationwide including WHSmith and Borders.
3) Subscribe for one year - now only £29.95
You can subscribe for only £29.95 (that's 50% off the standard UK subscription price) and get 12 issues delivered straight to your door, every month..
Call us on 020 7328 7300 or email info@emel.com.
Share this


Link to this
Printer Friendly