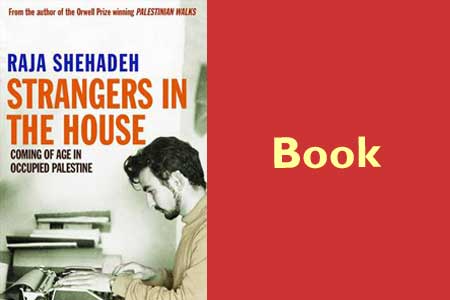 Strangers in the House
Issue 62 November 2009
By Raja Shehadeh
Review by Tasnim El-Naggar
This autobiography of Raja Shehadeh – Orwell prize winning author of Palestinian Walks – is very personal and at the same time reveals a clear picture about the oppressions, humiliations and inhumanities of the occupation and the struggle for a better world.
Shehadeh begins with remembering his grandmother Julia and her summer house in Ramallah. There his family had to flee in 1948 when Jaffa, their home city, was occupied. The family dream of returning home is abandoned when his father witnesses the atrocities of the occupation.
The emotional displacement bought on by the occupation is somewhat juxtaposed in Shehadeh's confrontation of the relationship between him and his father. He yearns for his father's acceptance and appreciation but this desire is left unfulfilled. Shehadeh portrays his father as a confident, assertive man who works tirelessly as a highly respected lawyer, while many other lawyers strike due to the occupation. Shehadeh meanwhile is sensitive and insecure, unlike his father. Feeling as though his father is ashamed of him, Shehadeh describes the struggle he encounters due to his lack of confidence and his unshakable inferiority complex. This is apparent when he goes to study English literature in the American University of Birzeit and later law and philosophy in London; reiterating his feelings of loneliness and despair.
Only later, when he returns back to his home country, does he realise his strengths. Whilst his father is politically active promoting the two-state solution, Raja wants to stay away from politics all together, against his father's wishes. Eventually, Shehadeh describes how he gives in and then goes on to become the founder of the human rights organisation 'Al Haq' and tries to reveal the injustices of occupation.
Shehadeh does not shy away from documenting personal, sometimes even emotionally distressing experiences; instances such as his father's avoidance of praising his son once Shehadeh's organisation earns international acclaim.
In his final years, Shehadeh's father who once was reputed as being a strong and committed man becomes filled with bitterness and anger. He accuses his son of creating problems within the organisation and holds him responsible for the threats they receive. This volatile relationship between Shehadeh and his father is what keeps this autobiography real and interesting. The juxtaposition of the country's political upheaval and Shehadeh's rocky relationship with his father is very well executed by the author. The reader is forced to experience the emotional turmoil that Shehadeh himself had to experience. He writes with a great sensitivity and inner cognition but never looses objective perspective. He succeeds to let the reader understand how it must feel to live in occupied Palestine, but does this without anger or hate. He is careful not to ignite any political agenda from the book itself, but instead communicates the very real aspect of the frustrations the native people experience whilst living in occupied territory.
Share this


Link to this
Printer Friendly