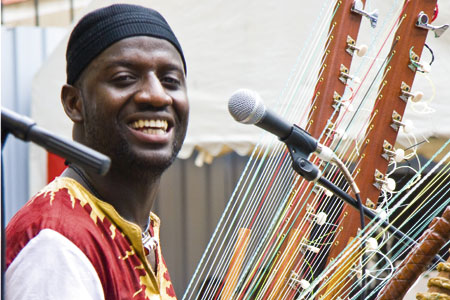 Seckou Keita - Music
Issue 67 April 2010
Review by Rehan Malik
The sun rises over mother Africa revealing the human story from time immemorial. Myths and legends, empire and magic as tenuous as the shifting Saharan sands kept alive in a rolling wave of campfire stories and music. Seckou Keita, Senegal's new musical sensation, echoes a thousand years of Mankind's legacy in his delicately crafted lyrics, framed by the Kora, an instrument itself woven into African legend.
Seckou Keita refers to the band as the 'Quintet'; a Pan African/ European collaboration of singers/musicians and Seckou Keita is the Senegalese "hereditary musician" (or griot), already acclaimed as the new African Hendrix.
A whirlwind career spanning over a decade has eventually led Keita to our shores, all the while embracing Cuban, Indian and even Scandinavian influences in his travels. As his reputation grows, he has become a firm favourite at venues as diverse as Womad, Glastonbury and Ireland's Sacred Music festival as well as supporting acts to luminaries like Salif Keita and Youssou N'Dour. Witnessing Keita you are assured that his many collaborations have fed and extended rather than diluted the African main spring of his music.
"Everything in music has to be honest, and the deeper meanings of the songs and melodies must be preserved", he explains. "This is why it's important that collaborations should be right for the music, and there are connections between, say, Cuban and Indian sounds and the repertoire of the kora that can be explored without losing the distinct flavours of the different traditions and styles".
This global embrace reflects the vibrancy of a slumbering African-Muslim empire hidden under the continent's current turmoil.
Share this


Link to this
Printer Friendly