Geek Shaykh - Travel Gadgets
Issue 68 May 2010
Going out into the wild this month? Don't get stuck in the mud. Robi Chowdhury selects a range of gadgets suited for your intrepid adventures.
Britain is home to a range of idyllic and remote destinations that are perfect for exploring. They are also perfect for getting completely lost in. So whether your hiking in Ben Nevis, sailing round the Isle of Wight or rambling in the Outer Hebrides, we have a gadget that could be the perfect solution.
The Spot GPS is a fantastic piece of equipment that allows you to be traced almost anywhere in the world. Initially developed as a rescue device, the Spot GPS can be used by pressing a button that sends an email (or a text message) to a friend or a family member to let them know that you are safe. It then locates your current position on Google Maps to show your loved ones where you are.
Of course, it wouldn't be much of a rescue device if there was no way to reach emergency services in the event of trouble. By subscribing to a yearly service (for approximately £87 a year), you'll be able to send critical and non-critical distress signals that will be transmitted to local Spot Teams. The Spot GPS is also capable of creating waypoints and allows others to track your progress online.

Available for £119 from
www.findmespot.eu
To enjoy the full feature, subscribe to emel >Read Below<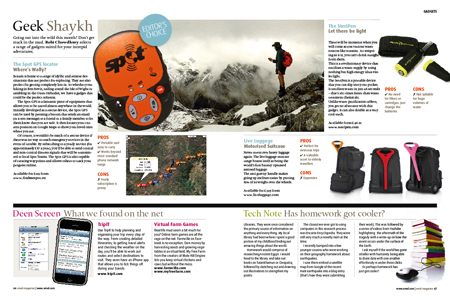 1) Delivered to your door for only £3.50 with FREE Postage and Packaging
You can get your latest issue of emel with FREE Postage & Packaging.
Click here for terms and conditions
Call us on 020 7328 7300 or email info@emel.com.
2) Find your Local Stockist
Your latest issue of emel is also available in stores nationwide including WHSmith and Borders.
3) Subscribe for one year - now only £29.95
You can subscribe for only £29.95 (that's 50% off the standard UK subscription price) and get 12 issues delivered straight to your door, every month..
Call us on 020 7328 7300 or email info@emel.com
Share this


Link to this
Printer Friendly