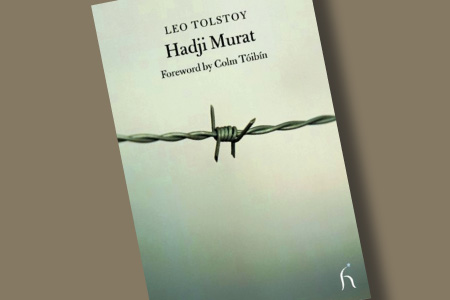 Hadji Murat
Issue 68 May 2010
by Leo Tolstoy
Review by Tam Hussein
Tolstoy was right when he likened the famous Chechen warrior, Hadji Murat to a thistle. Indeed since the publication of Tolstoy's novella 'Hadji Murat' in 1907, Chechens have experienced the wrath of Russian ambition whether in the form of Stalin's mass deportations or Putin's military excursions. His short novella gives a feel for the conflict better than any political history on the subject.
Reading Hadji Murat, one feels the breakneck speed of his horse; the cold wind as it hits the hero's face and the sound of bullets piercing his body as he desperately tries plug the bullet holes in his broken body. Tolstoy conjures up all the excitement and danger of frontier life with great panache and depicts a warrior embodying the very essence of heroism. The plot is straight forward; Hadji Murat has fallen out with his Guerilla commander, Imam Shamil, who holds his family hostage. In an attempt to bring his family back to safety, he approaches the Russians. The Russians, though awestruck by his presence and character, still want to use him as a pawn against Imam Shamil. Eventually realising that Hadji Murat cannot gain the trust of the Russians and knowing that he cannot go back to Shamil, he resolves to save his family on his own. He dies fighting evoking memories of the 300 at Thermopylae with the lines: "Birds of the air fly to our homes and tell our sisters, our mothers and fair maidens that we died for the ghazavat. Tell them our bodies shall lie in no grave, our bones will be carried off and gnawed by ravening wolves and black crows will pick at our eyes."
Lermontov, Dostoyevsky and others have professed an open admiration for the Muslim way of life and character. But Tolstoy might be doing much more than simply idealising the real life red devil; he had, after all, served as an officer in the Caucasus' and had firsthand experience. But it is his ability to go beyond his prejudices and understand the Outsider and use Hadji Murat as a mirror to critique his own society which is so remarkable. War, imperialism and resistance are treated with introspection. Identity, loyalty, religion and the corrupting influence of totalitarian power are treated with sensitivity.
Hadji Murat is a powerful story for anyone who wants to get into Tolstoy and understand the Chechen conflict better. But perhaps Hadji Murat has a more important role with a modern resonance; for Tolstoy, in Hadji Murat, captures the very essence of heroism, the very peak of what the ghazi is meant to be. One gets the sense that Hadji Murat for all his scorn against his adversaries would find it ignoble to blow up civilians in a busy underground in order to defeat them. And it is perhaps this essence which makes the reader, whether Muslim or non Muslim identify with Tolstoy's hero.
Share this


Link to this
Printer Friendly