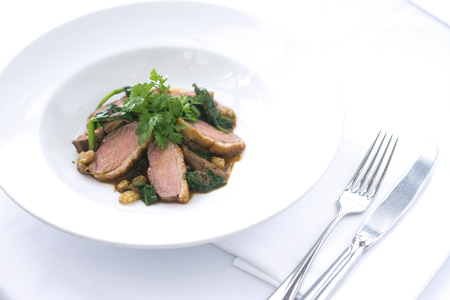 Roast
Issue 68 May 2010
The Floral Hall - Borough Market
Review by Heana Chowdhury
As my guest and I meandered towards Roast, the cobbled streets and the Victorian architecture created the feeling of being transported back to Dickensian London. On arrival, we were warmly received and lead to a window-side table overlooking the market streets bustling with the Thursday night crowd. Having heard great things about the food prior to our visit, we were here to enjoy and experience classical British cooking, which is the restaurant's speciality.
One cannot fail to be impressed by the grand design of the restaurant; situated in the portico of the historic flower market with floor length windows, allowing views of the thronging market crowd and the dome of St Paul's Cathedral. It truly is a lovely place to kick back and while away the evening, watching the world go by whilst enjoying mouth-watering British cuisine.
Fresh soft bread and butter were served whilst we perused over the enticing menu. For starters, we had dressed Dorset crab with toasted cottage loaf served on a bed of salad leaves. The rich taste of the dark and white crab meat was delicious and lingered on our taste buds whilst we waited for the main course.
For my main course, I chose pan-seared haddock which was served on a bed of pureed cherry tomatoes with a dill dressing. I also picked side orders of creamy mash, grilled field mushrooms with garlic butter and young spinach leaf with pine nuts in a lemon and olive oil dressing, all of which worked very neatly with the fish. The haddock was cooked to perfection and the freshness of the vegetables was amazing.
Moving onto our final course; there were a host of hot and cold puddings to pick from and we could have easily opted for several of them! I, however, settled for the traditional British Queen of puddings and my guest ordered poached pear with vanilla ice cream and bitter chocolate. The pear being perfectly poached and paired with the vanilla and chocolate, and the Queen of pudding was a worthy choice, both tantalizing and relished by us.
Roast provides a wonderful urban dining experience using the finest sourced natural ingredients and is a restaurant which proudly and firmly puts classical British food on the London map.
Meal for two: £100
Share this


Link to this
Printer Friendly