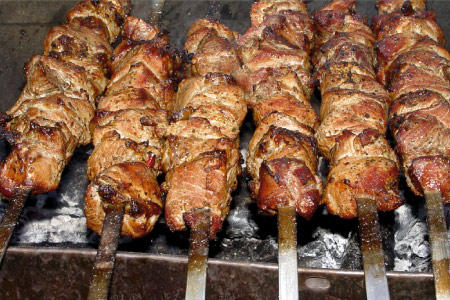 Alounak Restaurant
Issue 69 June 2010
Review by Amina Malik
For a Muslim with South-East Asian roots, not liking very spicy food amounts to cultural heresy. It's not that I don't like the flavours, the aroma or the wonderful combination of ingredients normally found in Asian food, but my poor taste buds just can't cope with the profuse amounts of chilli usually found in every dish.
As a chilli-lightweight and kebab lover, I have often suffered spiciness just to enjoy a tasty seek kebab. After visiting Alounak however, I have discovered kebab dishes similar to Asian ones, minus the heat!
Located on Westbourne Road in Bayswater, Alounak is an Iranian eatery popular with the locals - so popular that you should expect to queue every time you visit, considering the restaurant does not take bookings.
The eclectic surroundings include an aquarium filled with fish and an earthenware pot in the centre of the room from which emanates smoke, light and water. The offbeat appearance of Alounak adds to its charm. The restaurant has a cosy and warm feel to it with a very casual vibe.
With only one meatless dish, there is a poor choice of main meals for vegetarians but there is a wider variety of starters. The 'kashke badjeman' (mashed aubergine) starter had a reputation that preceded it and I genuinely found it to be delicious. Slightly dubious at the idea of green mashed aubergines, I was pleasantly surprised to find the flavours were incredible. This dish is a must try.
Most starters are eaten with 'taftoon' bread, made freshly in a traditional wood-burning oven before your eyes. The main menu consists largely of varieties of kebabs and the menu is missing other traditional Persian eats such as 'khorshets' (stews). Despite these omissions, the rest of the menu has been confirmed by Iranian friends as "the real thing"; authentic in its flavours and presentation.
The most popular choice of main dish is the 'koobedeh' (ground minced meat cooked with herbs and onions), and comes served with either bread or rice. Unlike its Asian equivalent however, there is no chilli powder whatsoever. If you are a spice fan, be warned, Persian food usually contains none. That is not to say it is bland, on the contrary, the food is flavoursome yet mild, relying more heavily on herbs and lemon and lime juice rather than the strong spices from Asia.
'Chelo kabab koobedeh' -the national dish of Iran - is my preferred choice when I visit Alounak as the lamb is always delicious and perfectly cooked, the rice buttery and the portions very generous. It is accompanied with a whole grilled tomato and a basic side salad with no dressing. The only drawback to this dish is the overall dryness to it as there is no accompanying sauce – a problem easily rectified by ordering 'mast-o-moosire', (shallots in a homemade yoghurt) or 'mast-o-khyar' (cucumber in yoghurt). Despite my love of lamb, the skewer of baby chicken marinated in garlic and saffron is infinitely the most succulent meat dish on the menu. It is juicy and so tender that it falls from ones fork.
Alounak also serves a special dish each day of the week. Dessert is a choice between traditional pastries or 'faloodeh' (sorbet) and the drinks menu consists of soft drinks or tea and coffee. A pot of mint tea will cost about £3 and can be shared with the entire table. All of the food is halal.
The average cost of a meal at Alounak is £15-£20 per head and the value for money is what keeps people going back. Good food at good prices, a must-try for Persian food fans (or chilli haters) in London!
Alounak Restaurant - 44 Westbourne Grove, London, W2 5SH
Share this


Link to this
Printer Friendly