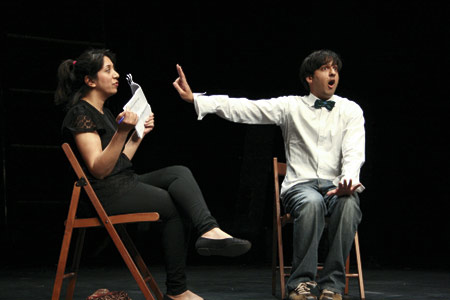 MUJU presents 'Extreme Prevention' and 'Walls'
Issue 70 July 2010
Review by Madinah Yate
The play opened up with a sketch surrounding Ish (a Muslim youth), and his Jewish friend secretly planning Ish's house party. Slightly unoriginal backdrop to start with and unrefined moments of banter yet the intensity of humour, washed with intellect, developed along with the play. A key moment where Ish, opens in rage, ordering his friend to leave his house, an emotion flaring from the betrayal that his friend had kept his move to Israel a secret. This moment captured, along with many others, the interpersonal emotions in play exacerbated by the religio-political climate these young friendships exist within.
Nabil Abdul Rashid, a Nigerian comedian from south London, provides a separate performance, creating the momentum for the following bouts of laughter. With familiar stand up comedy of classic Muslim and Jewish stereotypes, new material includes a sensational narration of a characteristic Asian football commentator; one not to miss!
Not simply full of light-hearted content, the play leaves the audience with thoughtful tenets of morality. A young Muslim boy, whose middle name is "Jihad", is persistently subjected to a primary school teacher manipulating the classroom environment. Attempting to ensure the safety of her other pupils, the teacher is in effect shown to nurture the young boy into an extremist. It not only explores the idea of self-fulfilling prophecies but emanates that we shape the living stereotypes of a religion by the relationships we form more closely.
Numerous sketches highlight the ignorant momentum in the backdrop of our governments "prevent agenda". A reformed extremist with hilarious repetitive one-liners, "I used to be a Muslim extremist", who's mere presence on stage attracts laughter.
Essentially, the play appeals more to the culturally intellectual young British Jew or Muslim, 
who relates to the more subtle satirical references to hypocritical practices in both faiths.
Share this


Link to this
Printer Friendly