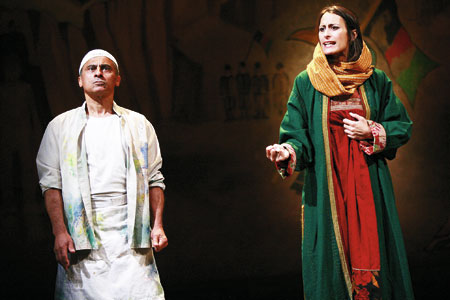 The Great Game Afghanistan
Issue 73 October 2010
Theatre
Review by Triska Hamid
The Great Game is a term used to describe the 19th Century struggle for Afghanistan as both the British and Russians fought for imperial supremacy. It is also the title of the trilogy of short plays currently showing at the Tricycle Theatre in Kilburn.
The riveting drama spans eight hours and includes 12 different plays interspersed with several monologues, all divided into three chronological parts. Each part can be seen individually during the week or consecutively at the weekend.
It begins with Stephen Jeffreys' 'Bugles at the Gates of Jalalabad', an emotional account of the British Army's worst defeat in 1842 during the first Anglo-Afghan war. Out of 16,000 soldiers, only one survived. The tone is set immediately when one of the buglers states: "This country is a death trap for foreign armies." The recurring theme throughout the trilogy is that wars in Afghanistan are not only complex but perhaps, unwinnable.
Director Nicolas Kent commissioned the plays last year in a bid to stimulate debate on the British presence in Afghanistan. Each play considers a different issue and viewpoint from all those who have laid a mark in the country, from the British, to the Soviets and the Taliban. And as the drama unfolds, the complexity of the struggles in Afghanistan becomes evident and the reasoning behind pulling out or staying in the country becomes blurred.
The Great Game is effectively a lesson in Afghanistan's history and politics. Although the plays are largely fictional, they have been thoroughly researched and deeply rooted in Afghanistan's tumultuous historical reality.
In 'Wood for the Fire' by Lee Blessing, the superpowers' arrogant mindset becomes clear. The US' inadvertent support of the Mujahideen spurred the Taliban to power and paved the way for groups like Al Qaeda. And as the 'Lion of Kabul' by Colin Taveen demonstrates, justice and the Taliban's skewed version of it, is not only distressing, but also morally ambiguous.
The cast of 15 include some familiar faces including Jemma Redgrave, Vincent Ebrahim and Nabil Elouwahabi; who plays such a convincing Afghan warlord, it is difficult to restrain yourself from slapping some compassion into him. The performances are engaging, each play is unique and some unnerving, but they all inform and entertain. The only flaw is that none of the writing is from Afghanistan itself.
Yet, none of the plays preach to the audience, none offer solutions to the problems in Afghanistan. The realities are presented to the audience who are left to make their own minds up. This is theatre at its best.
Share this


Link to this
Printer Friendly