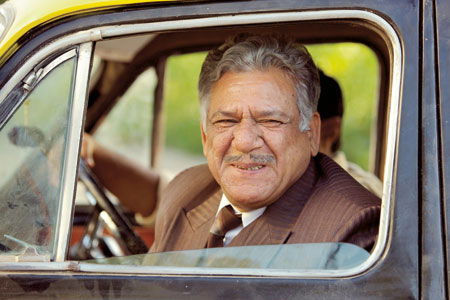 Film Review - West is West
Issue 78 March 2011
Film Review by Mohammad Mirbashiri

More than 10 years after East is East first hit the silver screen, this year finally heralds the release of West is West, the long-awaited sequel to the successful comedy-drama film about a British-Asian family living in 70s North England.
West is West follows the Khan family on a journey from their home in Salford, England to Pakistan in 1976. The film begins focussed on the troubled life of the adolescent son, Sajid (Aqib Khan) but as the film develops, his story becomes over-shadowed by the complex and sorrowful story of George (Om Puri), his Pakistani father. Sajid persistently skips school in a bid to avoid the racist bullies who pick on him everyday for being of Pakistani origin. After being caught shop-lifting one day, he has an argument with George and Ella (Linda Bassett), his English mum. George, distressed that his youngest child, Sajid is following in his elder children's footsteps in leading a western-lifestyle and fearful he will too eventually become estranged from him, takes the brash decision to take him on a trip to Pakistan to learn a lesson about obedience and Pakistani heritage.
The film explores the multifaceted dilemmas faced by the British-Asian community, how they are perceived and also how they wish to be perceived by others. George, who is known as Jahangir to his Pakistani family, sets out in his trip to resolve the disconnect that exists between him and his son, but upon returning to his homeland, he soon realises a greater disconnect with his Pakistani wife, Basheera (Ila Arun) and two daughters whom he had left behind many years before. George's situation is exacerbated when Ella, his English wife joins them. The actors are convincing, in particular Pir Naseem (Nadim Sawalha), who plays a wise Sufi sage from the village who mentors George's son, Sajid.
West is West is a packed film, with some tense, emotional scenes and an array of cliché jokes about culture and being lost in translation. The serious issues faced by the British-Asian community are sad and moving, but nonetheless witty screenwriting catches the hilarity of subtle nuances of both English and Pakistani culture. This, along the visual backdrop of lush landscapes results in a film which is just as rich in story as it is in bright cinematography of rural Pakistani village life (though it was actually filmed in India).
On the one hand, the film makes a point of highlighting the stark differences between English and Pakistani culture. It falls short of addressing contemporary issues pertaining to Islamophobia faced by the British-Asian community but on the other hand, West is West points to more intimate questions of identity and belonging of the Khan family and whilst seeking to resolve the gulf between the different cultures, makes us realise we are after all perhaps not as dissimilar to one another as we think.
Share this


Link to this
Printer Friendly