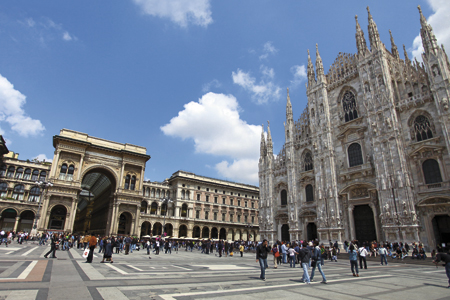 Milan - A Feast for the Eyes
Issue 78 March 2011
Long time a destination for fashionistas and art fiends, Milan is often eschewed by other visitors to Italy in favour of Florence, Venice, and Rome. However, Milan is deserving of a visit, even if it is just for the beautiful architecture.
Words by Joseph Downing
We were lured to Milan by a £1 flight into Bergamo, and a £1 flight out of Genoa. Milan was the most uncertain part of our overall journey, as my wife and I had heard complaints from returning visitors of its expense, snobbishness, with some even accusing it of being boring! That's impossible—for many reasons—but especially if you are a lover of great architecture.
The city traces its history back to a Celtic tribe that inhabited the site around 400BC. By 293CE it had been made the capital of the Western Roman Empire. The edict of Milan, given in 313 gave religious freedom to Christians in the Roman Empire, after which the city changed hands a number of times until being taken by Charlemagne in 774. The next 600 years of Milanese history would be dominated by struggles for power between rival factions, until the House of Sforza took the city in 1450 and made it one of the centres of the Italian Renaissance. Napoleon took the city in 1796, during which time he declared it the capital of the Kingdom of Italy. Milan would pass to Austrian control again in1815, by which time Mozart had premiered three operas in the city, and as part of the movement for Italian unification, Milan was incorporated into the Kingdom of Sardinia in 1859, becoming the Kingdom of Italy in 1862. This cemented the city's place as the commercial centre of northern Italy, with rapid building and industrialisation projects quickly following. During the Second World War Milan become a centre for the Italian resistance, who liberated the city from German control before the arrival of American forces. Post-war, Milan quickly bounced back, attracting migrants from southern Italy and the rest of the world, becoming the vibrant, buzzing global metropolis we see today. The city unsurprisingly is one of Europe's top tourist destinations, attracting over 1.9 million visitors a year, drawn by attractions such as AC Milan football club, the city's famous cuisine and its stunning architecture. We started our exploration at the only place to be: the Cathedral of Milan.
Milan Cathedral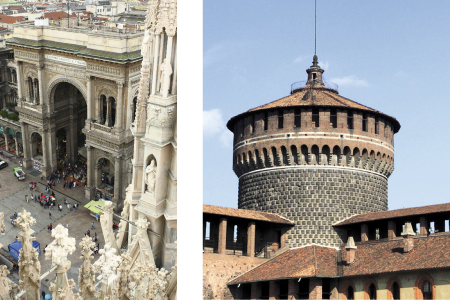 (left) The roof of the Duomo is open to the public and allows for a glorious view of the city. (right) Castello Sforzesco castle once belonged to an ex-viscount. It now holds 12 different museums.
The Cathedral (Duomo) of Milan is the fourth largest church in the world and is a feast of gothic splendour. It is highly regarded by gothic architecture aficionados, and although it recently shot to fame when a scale model was used to assault Prime Minister Berlusconi, the Cathedral's celebrity status is much longer lived, and better deserved by the sheer glory of its architecture. It holds one of the largest collections of marbled statues in the world, and took over 500 years to complete. The roof is open to the public, which allows for a glorious view of the city. We were overwhelmed by the stunning beauty and the complexity of the stained glass, the carvings, and the marble floors, decorated as they were in different colour marble against a bright white marble background.
Other Sites
Milan packs plenty of other sites, far too many to mention here, but after the Duomo the next stop should be the Castello Sforzesco. An ex-viscount's castle, it was saved from demolition in 1893 and redeveloped to house the city's various collection of art and artefacts. It now holds 12 different museums, taking you on a whistle stop tour from Palaeolithic history to 1950s furniture, all under one roof in an imposing and impressive structure, which is as much of an attraction as the collections it houses. Whilst there are more breathtaking and historically important churches in Milan, perhaps one of the most important is the basilica of San Simpliciano. Constructed in the 4th centaury AD with its Romanesque facades and internal feast of religious art from the renaissance, baroque, rococo and neoclassical eras.
Golden Triangle/Shopping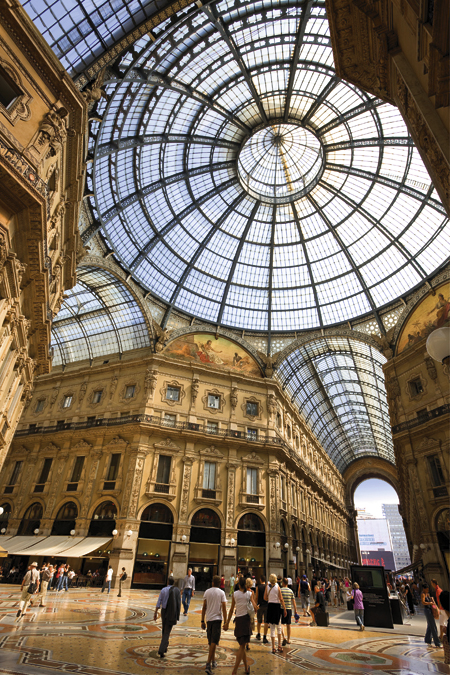 Galleria Vittorio Emanuel II is reputed to be one of the world's most beautiful indoor shopping malls.
Spending money is something Milan does with aplomb. You can shop in its ultra modern, chic incarnation, or in full, old world elegance. An example of the latter is Galleria Vittorio Emanuel II, named after the first King of united Italy and reputed to be one of the world's most beautiful indoor shopping mall. This double-vaulted, glass-roofed arcade built in 1865, is referred to by locals as Milan's drawing room, due to its historical importance as a centre of public life and socialising in the city, with the famous Zucca's bar and Biffi Caffe seeing more than their fair share of writers, politicians, artists and notables passing through. The arcade also hosts some of the city's oldest shops, haute couture outlets, and the most expensive hotel. Shopping apart, I was impressed with the building itself, a feast of artistic excellence in plaster, stone, paint and steel. It's in places like these that you become very much situated with the history of a city, and get some idea of the world-view of its past notables. Perhaps not as grand, but equally interesting is the Golden Triangle, the centre of modern shopping in Milan and the city's legendary fashion industry.
Regardless of one's view on the world of designer fashion, when in Milan it's impossible to resist popping down to the Golden Triangle, even if all you can afford is a spot of well earned people-watching.
Homebound
We left Milan via its impressive central station, feeling dwarfed by the grandness and exuberance of not only the city but the station itself! As one of the main European railway stations, an approximate 330,000 passengers pass through it every day, totalling a massive 120 million a year. It was at this point that we realised we had not felt this overwhelmed the whole time we were in the city. This just goes to show that, whilst it is the centre of fashion and luxury goods, Milan is remarkably unassuming and laid back. With its classically enchanting architecture, authentic cobbled streets and remarkable food, I was sad to see the end of our time in Milan, and given a choice would have stayed for a couple of weeks and really get to know the city well.
As with all big cities, the really interesting stuff lies beyond the tourist sites. Given more time to explore, you can discover some real treasures buried deep in the roots of the city that are enriched with history and culture.
With budget airlines making it cheaper and easier, the time for a trip to Milan has never been better. With its excellent food, mix of unassuming atmosphere and high elegance, you will be sure to have a great time.
Top five trips from Milan

Bergamo
Set in rich green countryside with its medieval city on a hill with an amazing view, Bermago was once part of the Venetian empire and their influence can be seen in the glorious architecture and art of the town. Only 40 minutes from Milan by train, this city is also famous for producing bergamot oil, the essence of a small bitter orange that gives earl grey tea its characteristic citrus taste. Added to this, Bergamo airport has opened up to the budget airlines, making it the perfect staging point for exploring the region.
Genoa
Once home to a maritime republic that rivalled the glory and power of Venice, Genoa is a gem of northern Italy. Now a vibrant and buzzing port city that has recently benefited from a host of urban renewal projects, it has never been better to visit. Its magnificent cathedral with its alternating black and white marble design, its famous cuisine, sea-front location and access by budget airlines makes Genoa a great value introduction to northern Italy.
Italian Riviera
If you miss the sea, or need to escape the hustle and bustle or summer heat of Milan, only an hour or so away is the Italian Riviera. Famous for its particularly mild climate which, together with the charm of its old fishing ports and the beauty of its landscape, has made it a popular destination for travellers. You will be spoilt for choice with destinations including Portofino, the UNESCO world heritage Cinque Terra and many other gems.
Lake Como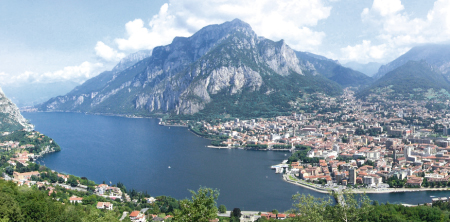 Widely regarded as the most beautiful lake in Italy, and the countries third largest, lake Como is only a short train-ride from Milan. A popular retreat for aristocrats and the wealthy since Roman times, this lake of glacial origin set in stunning mountains, is a definite highlight of northern Italy. Well known for its Mediterranean-like climate, where tropical and sub-tropical plants grow year-round, Lake Como is the ideal location for soaking up some sun.
Turin
Long known as Milan's arch rival and centre of the Italian car industry, Turin is a flourishing, cosmopolitan European city. Much of the city's historical architecture was designed by the famous Sicilian Filipe Juvarra, who was heavily influenced by Versailles. As well as this French connection, the city is home to a rich collection of historic sites, museums and beautiful architecture that make it a feature on anyone's itinerary.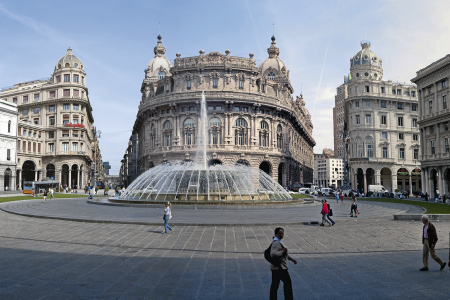 Milan is home to classically enchanting architecture, authentic cobbled streets and remarkable food
Images - Hpschaefer, Bergamo Zuffe, Bernini Massimo
Share this


Link to this
Printer Friendly