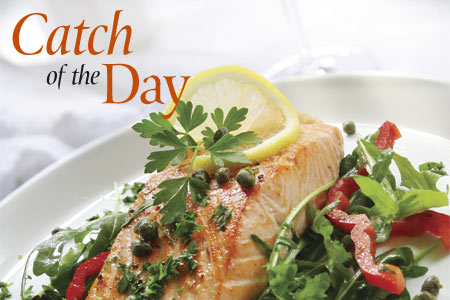 Catch of the Day
Issue 81 June 2011
Savour the delights of the sea with Rehana Jeraj's catch of delicious dishes, perfect for the summer months ahead.
Pan fried salmon with peppers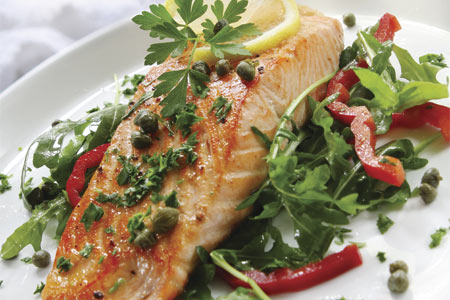 Ingredients
4 salmon fillets
Ground black pepper
Flour for dredging
30ml extra virgin olive oil
1 tbsp butter
1 tbsp capers
3 peppers (red, green and yellow) sliced
1 lemon juiced
Parsley for garnishing
1 bag of rocket leaves

Method
Season the fish on both sides with salt and black pepper.

Lightly dredge the fish in flour and shake off excess.

Heat a pan over medium heat. When the pan is hot, add extra virgin olive oil and butter.

Place the fish in the pan, skin side down. Cook until a golden crust forms on the skin.

Carefully flip the fish over and pan fry until it turns golden brown.

In another pan, fry the peppers and capers.

Remove the pan from the heat, and then add lemon juice and swirl.

Place rocket leaves on a plate and add the salmon fillet.

Pour the sauce over the fish and garnish with a slice of lemon.
Mixed seafood paella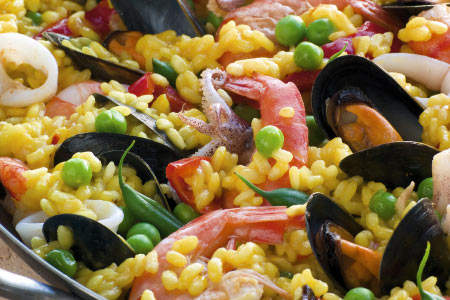 Ingredients
700ml fish stock
1 tsp saffron threads
2 tbsp olive oil
250g firm fish fillets, cut into 2 cm pieces
1 onion finely chopped
2 garlic cloves crushed
420g Spanish short grain rice
2 tomatoes peeled, deseeded and diced
2 tsp smoked paprika
500g medium green king prawns, peeled and deveined
150g baby squid, cleaned, cut into 1 cm thick rings
12 mussels, scrubbed, debearded
448g frozen peas

Method
Mix the stock, one cup of cold water and saffron in a medium sized saucepan over medium heat. Then bring to the boil and cover, reducing heat to medium-low. Keep at a simmer.

Meanwhile heat one tablespoon of oil in a non-stick frying pan over medium-high heat. Add the fish and cook for one minute each side or until light golden. Then transfer to a plate.

Add the remaining one tablespoon of oil to a pan. Add onion and garlic, and cook for five minutes or until soft.

Add the rice, tomatoes and paprika, and stir to combine. Using a spoon, spread the mixture evenly over the base of the pan.

Add half the stock mixture to the frying pan and bring to the boil over a high heat. Shake the pan to spread the mixture across, being careful not to stir. Reduce heat to medium and cook uncovered without stirring, for 10 minutes or until stock is absorbed.

Add prawns, squid and mussels, or your choice of seafood, pressing the fish into the rice mixture. Add half a cup of the stock mixture and cook until all the liquid is absorbed.

Repeat with the remaining stock mixture, adding half a cup at a time. Add the fish and peas with the last remaining half a cup of stock.

Remove from heat and stand covered for five minutes. Season with pepper and serve. You can vary the seafood according to what is available and to taste.
Grilled King Prawns with Lemon and Garlic Chilli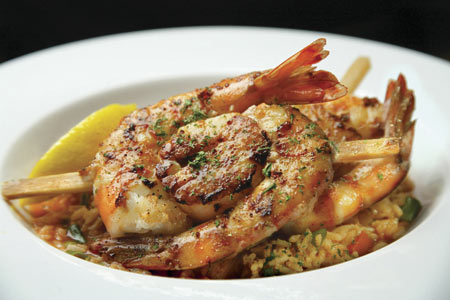 Ingredients
18 fresh green king prawns
100ml extra virgin olive oil
2 red chillies finely diced
2 lemons zested
2 cloves garlic crushed
Finely chopped parsley
Lemon wedges to serve
For the pepper rice
1 tbsp olive oil
1 onion, finely chopped
1 red pepper, deseeded and chopped
Piece of fresh root ginger, finely chopped
250g basmati rice
1 tsp turmeric
600ml vegetable stock
25g flaked almonds, toasted

Method
Remove the prawn heads, shell and devein, leaving the tails on. Place the prawns in a bowl.

Add the remaining ingredients and mix to combine. Set aside for one hour to marinate.

Thread the prawns on to skewers.

Preheat grill to high, place the prawns and cook for five minutes brushing with the marinade until pink.

For the rice, heat the oil in a wide pan with a lid, then cook the onion, pepper and ginger together for five minutes, whilst stirring and until softened.

Stir in the rice and turmeric for one minute more, and then pour over the stock. When the stock begins to simmer, cover with the lid.

Cook for 12 minutes until the rice is tender and stock has been absorbed. If the rice is tender but a little stock remains, turn off the heat, cover again, and then leave for two to three minutes.

Season and stir through the almonds before serving. Serve with grilled prawns, lemon wedges and sprinkle with chopped parsley.
Thai Fish Cakes

Ingredients
200g potatoes (roughly cut into 2 cm chunks)
300g salmon fillets or cod loin
Sea salt
Olive oil
Plain flour
3 lime leaves (finely chopped)
1 large red chilli (de-seeded and finely chopped)
4 cm piece fresh root ginger (peeled and finely chopped)
2 cloves garlic (finely chopped)
2 stalks lemongrass (bruised with a heavy knife—trim off the root and discard tough outer leaves)
2 tsp fish sauce
Juice of 1 lime
Handful of fresh coriander
For the chilli dip
6 tbsp rice vinegar
2 tbsp Demerara or palm sugar
½ tsp sweet paprika powder
1 fresh red chilli (seeds left in, finely chopped)
1 tbsp fish sauce
Juice of 1 lime
2 cloves garlic
1 tsp tomato puree
2 tsp plum sauce
1 tsp corn flour (mixed with a little cold water)

Method
Preheat oven to 200C. Place the potatoes in a pot of boiling water until cooked. Mash and leave to cool.

Place fish on a roasting tray, drizzle with olive oil and sprinkle with sea salt. Cook for 10 minutes before removing from the oven to cool.

Add all the Thai ingredients into a mixing bowl and mix thoroughly. Add the mashed potato and fish sauce. Make sure to mix well.

Then, break up the cooked fish and add to the bowl, mixing well.

Form the mixture into little cakes about 6cm wide. Dip in flour and shake off any excess.

Heat the oil in a non-stick frying pan and fry for three to four minutes on each side.

For the chilli dip, place all the ingredients in a small pan and bring to the boil. Once boiled, reduce heat to a simmer and cook for five minutes. Cool before serving.
Fish Bhuna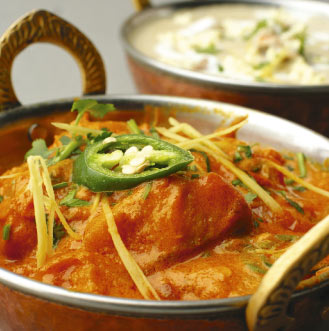 Ingredients
4 fillets fish (haddock or cod), each cut into four
3 tbsp oil
1 tsp salt or to taste
2 medium onions chopped
4 fresh green chillies halved lengthways
4 cloves garlic crushed
1 small piece fresh ginger peeled and finely diced
1 tsp ground turmeric
1 ½ tsp ground coriander
1 ½ tsp ground cumin
½ tsp chilli powder
1 ½ tsp paprika
1 ripe tomato diced
Julienne of fresh ginger for garnish
1–2 green chillies for garnish
Fresh coriander to garnish
For the flatbread
500g strong white flour
2 tsp salt
7g sachet fast-action yeast
3 tbsp olive oil
300ml water

Method
Heat the oil in a non-stick pan. Then add the garlic, ginger and onions and fry for two to three minutes.

Stir in the chillies, salt and 125ml of water. Turn down the heat and simmer until onions are soft and mushy.

Add the turmeric, coriander, cumin, chilli and paprika. Stir well, then add tomatoes, simmer for 12-15 minutes adding more water if necessary.

Gently place the fish into the pan, cover and simmer until cooked. Garnish with julienned ginger, coriander and chillies.

For the flatbread, mix the flour, salt, yeast and oil in a large bowl and then add enough water to make a soft dough. Knead well and place into a lightly oiled bowl to rise for one hour, until doubled in size.

Divide the dough into eight pieces, about 250g each, and use a rolling pin to flatten each one into a circle, 15cm in diameter, about 1cm thick.

Then leave the pieces on a lightly floured baking tray to prove for five minutes. Heat a large frying pan to a medium heat and dry-fry each piece until browned on both sides, approximately five minutes in total. Set aside to cool slightly before serving with the fish bhuna.
Food from my Childhood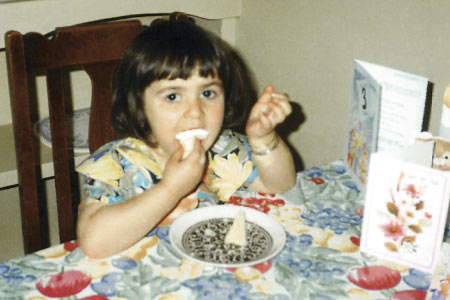 Umaymah Hewitt fondly remembers the sizzling braais in South Africa.
I've always loved food, so mum never worried about me being a fussy eater. She's South African, so has a rich culinary culture.
Barbeques, or braais are the preferred dining format for large gatherings in South Africa. On offer are huge varieties of deliciously marinated meat and chicken cuts, sausages (boerewors and viennas are personal favourites), home-made coleslaw, pap (a thick porridge made from ground maize), spicy beans, corn-on-the-cob, and much more. Such is the standard for a good braai.
I guess the braai that has stayed with me since childhood was the one at Kruger National Park when I was eight years old. The pasta salad was the best I had ever tasted, and remains so till this day. I can still remember the exact salmon-pink shade of the sauce and the perfect balance of sweetcorn and pasta curls.
The sun had set, the braai was sizzling, the glass doors were thrown open to the balmy evening air, and cheerily bright light spilled out of the villa onto the patio. I took my slightly charred drumstick outside and sat on the grassy slope of the garden, gazing out at the lake beyond the line of trees and bushes. Suddenly, rustling leaves made me jump, and out of the foliage popped out what can only be described as an entire clan of small monkeys. I sat completely frozen as they stared back at me. Slowly, I held out a strip of chicken. One monkey, clearly the ring-leader, hesitated for only a second before leaping forward and confidently snatching my peace offering right from my open palm. The whole gang then scampered away, melting into the overgrowth as quickly as they had appeared. I was blown away with delight.
Share this


Link to this
Printer Friendly