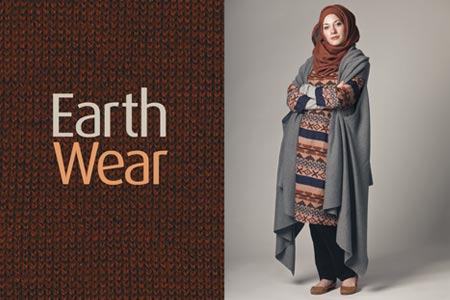 Earth Wear
Issue 85 October 2011
As time goes on, we are beginning to see the harsh consequences that the excessive use of the Earth's resources is having. Fatema Zehra takes Megh Falter through the three R's of environmental fashion.

Photography - Steven Lawson

Stylist - Fatema Zehra

'Reduce, reuse and recycle' are commonly known as the three R's of the environment. The strategy involves reducing consumption by looking carefully at what we purchase and use, reusing what we already own, and recycling by looking at the potential of old items to be used in new capacities. In fashion, another R can be included into this three stage plan—'restyling'. Reworking old items from your wardrobe with a few, carefully chosen pieces can entirely revamp your wardrobe. Tailoring your existing items to refresh a look is an innovative and individual way to guarantee you minimise wastage, whilst also owning a completely exclusive outfit.

TIPS

Restyle all those old clothes from the back of your wardrobe. Combined with classics or up-to-date buys, you can create a great new look.

If you have to take the wallet out—opt for eco-friendly and ethical brands, taking every step to reducing your carbon footprint on the environment.

To see more of our Fashion feature, as well as gain access to exclusive videos, plus behind the scenes footage and more interactive content, log on to http://digital.emel.com to get your digital issue today.
Share this


Link to this
Printer Friendly