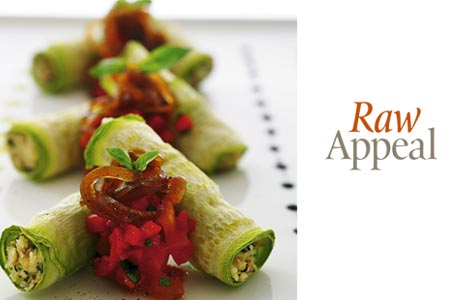 Raw Appeal
Issue 85 October 2011
Choosing nutritious plant-based ingredients and raw foods as an alternative to animal products and processed foods can have a substantial effect on your health. Fatema Zehra selects some delectable treats from innovative eatery, Saf Restaurant.
Cannelloni Bites
Ingredients
1275g almonds, soaked for 10–12 hours and drained
150g pili or pine nuts
2 tbsp extra virgin olive oil
2 tbsp lemon juice
½ tsp sea salt
½ tsp black pepper
4 garlic cloves
1 ½ tbsp dried Italian seasoning
½ tsp cayenne pepper
50g sun-dried black olives, pitted and minced or very finely chopped
1 tbsp finely chopped fresh thyme
2 tbsp finely chopped fresh basil
3 courgettes
For the tomato salsa
5 plum tomatoes
1 small green chilli, finely chopped
¹⁄³ bunch fresh coriander, finely chopped
1 garlic clove, crushed
2 tbsp fresh chives, finely chopped
½ small red onion, finely chopped
Salt and ground black pepper
For the caramelised onion
2 red onions
50g date paste
2 tbsp soy sauce
Method
In a food processor or blender, purée the nuts, olive oil, lemon juice, salt, pepper, garlic, Italian seasoning, cayenne pepper and three tablespoons of water into a smooth, thick paste. Stir the olives, thyme and basil into the paste.
Slice the courgettes lengthways into fine strips using a mandoline. Place two courgette strips side by side. Put a small scoop of the almond paste near to the end of each strip. Fold over the courgettes and proceed to roll until the paste holds the roll together. Slice off the excess courgette. Repeat with the remaining strips and filling to make about 20 cannelloni.
Put on the screen of a dehydrator tray and dehydrate for six hours or until firm.
For the tomato salsa, dice the tomatoes and put into a colander to drain the juice. Transfer to a bowl, mix in the remaining ingredients and season with salt and pepper.
For the caramelised onion, slice the onions very thinly using a mandoline. Mix with the date paste and soy sauce, and then leave for approximately 10 minutes before using.
Serve the cannelloni garnished with tomato salsa, caramelised onions and basil.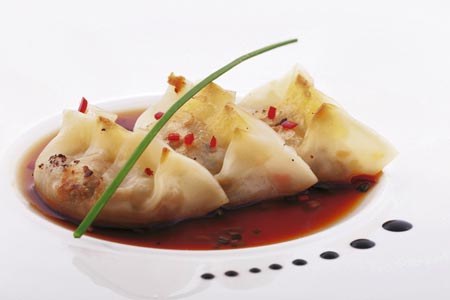 Spinach dumplings
Ingredients
20 small dumpling skins (use vegan gyoza or vegan dumpling skins)
2 tbsp vegetable oil
Black sesame seeds, to garnish
Kimchee, to serve
For the filling
1000g baby spinach
1 white onion, diced
50ml extra virgin olive oil
225g water chestnuts, finely diced
115g date paste
1 red chilli, minced
1 tbsp rice vinegar
2 tbsp black sesame seeds
Sea salt to taste
Ground black pepper to taste
For the dipping sauce
50ml soy sauce
50ml mirin
50ml rice vinegar
½ tbsp maple syrup
½ red chilli, minced
3 tsp minced fresh chives
For the kimchee base recipe
2 heads napa cabbage, chopped
90g sea salt
5 garlic cloves, peeled
5 red chillies
25g fresh root ginger, grated
120ml rice vinegar
Method
To make the filling, steam the spinach by putting it into a large pan of boiling water and, after one minute, lifting it out and plunging it into ice cold water. Drain in a colander, pressing the steamed spinach to remove all the water. Then transfer to a large bowl.
Put the onion in a small pan with the olive oil and cook, covered, over low heat, stirring occasionally, until soft and translucent. Add to the bowl with the spinach.
Add the other filling ingredients to the bowl and mix together well.
To make the dumplings, scoop one. to one and a half tablespoons of filling and put into the centre of a dumpling skin. Moisten one edge of the pastry with water, fold the skin over and seal by pinching the edges.
Heat the two tablespoons of oil in a frying pan or wok and carefully add the dumplings, cooking them until golden brown.
To make the dipping sauce, whisk all the sauce ingredients together well, then pour into four small individual ramekins for serving.
For the kimchee base recipe, put the cabbage in a bowl and mix it with the salt. Leave overnight at room temperature to wilt it. Using a blender, purée the garlic, chillies and ginger into a smooth paste. Rinse the cabbage, drain well and tip into a bowl. Add the paste and the vinegar. Leave at room temperature overnight.
Just before serving, steam the dumplings in a steamer for six to seven minutes. Serve the dumplings on a banana leaf with a dish of kimchee. Garnish the plate with black sesame seeds and serve with the dipping sauce.
To read more mouth-watering recipes in our Food feature, as well as gain access to exclusive videos, plus behind the scenes footage and more interactive content, log on to http://digital.emel.com to get your digital issue today.
Share this


Link to this
Printer Friendly