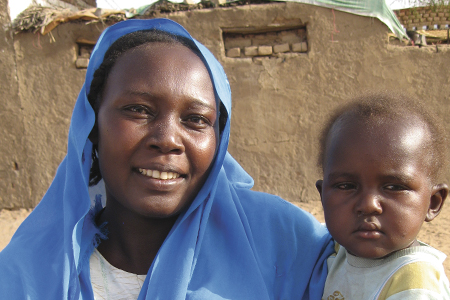 In the Shade of Paradise
Issue 84 September 2011
With 80% of maternal deaths worldwide being easily preventable, 'At our Mothers' Feet' has been launched to raise awareness on the issue and facilitate positive action. Khadija Gulamhusein reports.
In the Western world, maternal health has drastically improved over the last century. Increased education, better access to healthcare, reduced gender inequalities, and greater acceptance and use of contraceptives have all aided the process. But such radical improvements have not been mirrored in the developing world. As a result, when the Millenium Development Goals (MDGs) were framed by world leaders, maternal health was deemed a pressing issue. Ambitiously, the fifth MDG seeks to reduce global maternal mortality by three quarters of 1990 levels by 2015.
Despite some progress being made, the situation remains dire. Every day, 1000 women die from complications related to childbirth. This amounts to over 350,000 women dying every year, down from 500,000 in 1995. Of all the health indicators, maternal health presents the greatest difference between rich and poor countries. While a woman in sub-Saharan Africa has a one in 16 chance of dying in pregnancy or childbirth, this is significantly reduced to one in 4,700 for a woman living in a Western industrialised country. Over 99% of all maternal and newborn deaths occur in the developing world, where more than 50% of women still deliver without a skilled health professional.
Maternal deaths also present ancillary problems. Neonatal deaths are linked to maternal deaths; a baby whose mother has died during childbirth is ten times more likely to die before the age of two than a baby whose mother remains alive. Apart from the tragic loss of life, maternal deaths have a devastating socio-economic impact. Women undertake approximately 66% of the world's work and produce 50% of its food. It is estimated that as a result of maternal deaths and associated infant mortality, $15.5 billion of potential productivity is lost every year globally.
The greatest tragedy though, is that 80% of maternal deaths are preventable through the provision of easy access to quality healthcare, and by prioritising the rights of women. Thousands of women in the developing world struggle on a daily basis to access hospitals, vital medication and birth support because these services are unavailable or too expensive to access. The five major causes of maternal death—haemorrhage, eclampsia, sepsis, obstructed labour, and unsafe abortions—can, in the majority of cases, be mitigated through the provision of quality healthcare services, trained birth attendants and access to necessary medicines and equipment. It is estimated that effective family planning can help save up to 150,000 lives in five years, if properly instigated. By spacing out births, and encouraging women to have children in their early 20s rather than mid-teens, women in the developing world are significantly less likely to die from childbirth.
With this in mind, London based charity, MADE in Europe, recently launched a campaign called 'At Our Mothers' Feet' to coincide with the 100th International Women's Day. Inspired by the Prophetic saying, "Be at your mother's feet and there is Paradise", and Islam's respect for the status of mothers, it aims to inspire Muslim communities in the UK to take a greater role in combating maternal deaths worldwide, and provide support for Muslim charities wanting to work on maternal health issues. The campaign is run in conjunction with partner, Ammalife, and with support from UKaid, a branch of the Department for International Development.
"It's tragic that so many women are dying unnoticed every day from preventable causes", says campaign spokesperson Sarah Atkinson. "Islam has a strong tradition of honouring mothers and the central role they play in society. We believe Muslims can and should be at the forefront of the fight to prevent maternal deaths worldwide, and hope that this campaign will help to educate people about the importance of enabling women to access their rights."
The campaign works by facilitating action and supporting people with ideas. Interested parties can hold fundraising events, and receive support with the organisation's free event planning guide. Other facilitated courses of action include sending postcards to friends and family with more information about the campaign, calling up family members or friends in countries with high maternal mortality rates, and using social media to publicise the cause.
As Dr Mahmoud Fathalla, a medical professor in Cairo makes clear, "Women are not dying because of diseases we cannot treat. They are dying because societies have yet to make the decision that their lives are worth saving."
As the campaign illustrates, it is neither difficult nor expensive to save the lives of pregnant women. Because the vast majority of maternal deaths are preventable through the provision of basic medicine, family planning methods and the presence of a trained health worker such as a midwife, the only thing that is lacking is the will to initiate change. And that is what the campaign is looking to provide—the impetus to drive change.
For more information on the 'At Our Mothers' Feet' campaign, visit:
www.atourmothersfeet.org.uk
Share this


Link to this
Printer Friendly