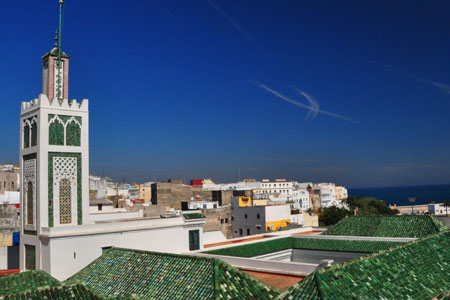 Intrigue in Tangiers
Issue 88 January 2012
Joseph Downing travels to the city where once spies, smugglers and forgers walked the streets, which now house chic cafes and splendid mosques.

It was on my fourth trip to Morocco that I found myself in Tangier—the "door to Africa." Arriving on a budget flight, it was truly a place that stirred the soul, being central to so many narratives of ancient and modern history. Was I arriving at "Tanja", launch pad for the Islamic conquest of Spain and birthplace of the great Islamic traveller, Ibn Battuta? Or was I going to be enveloped by the glamour, smoke and decadence of the Tangiers of the international zone, where the city was central to the arts of the early 20th century, epitomised by the work of Tennessee Williams and Paul Bowles? Or was I arriving at, as some pundits had described, a place in terminal decline precipitated by its incorporation back into the Kingdom of Morocco in 1956? The reality was more exciting than I could have expected. In this city, genuinely constituted by its place in "a million stories", the line between fact and fiction, fantasy and reality, and between Africa and Europe, seems to have become blurred with a uniquely Moroccan and Islamic twist.

My journey to the mysterious city of intrigue involved taking an early morning flight from London to Madrid, and then transferring to the evening flight from Madrid to Tangier. It seemed too good to be true, with the cost coming in at under £80 return from Gatwick. After breaking our journey for a day in Madrid, a friend and I boarded the one-hour hop over to Tangiers and began our descent into the aptly named Tangier Ibn Battuta Airport, basked in the golden, multicoloured light made famous a century earlier by the city's resident artists of yore. On landing, we took a taxi to our hotel in the medina and began our exploration in earnest, starting as many other travellers do, at the city's port.

The Port and Corniche
We opened our exploration of the city at the metaphorical "Door to Africa", the gate to Tangier's famous port in search of that most basic of traveller necessities, a good meal. We were not disappointed, as one of the highlights of the city, to me at least, is to sit at one of the local restaurants across the gate of the port and slowly work your way through the local seafood, finished with a sweet fragrant mint tea. This is an experience, however, that goes beyond food. Arrive and get settled just before sunset, and you will be in for a treat. As the sun goes down, the array of colours in the sunset is like eating in front of a real life Matisse painting, which constantly evolves and changes as the sun gradually falls in the sky. It is also at this time that the local birds begin to circle around the port, children flock out to play football and families exit the medina to take in the fresh sea air. Old men also begin their arrival at their favourite cafes, as they have done for many years, to socialise with their friends, drink tea, discuss life and feast on the colours of the sky and the song of the local birds. On my second or third day at this particular spot, I notice the port still retained some of its colonial art deco buildings, with the name of the city in large metal letters on the side in an art deco script. The enormous cranes on the horizon reminded me that this is more than just a scenic holiday destination, but very much an important and busy city, second only in commercial importance to Casablanca. Read More
Share this


Link to this
Printer Friendly