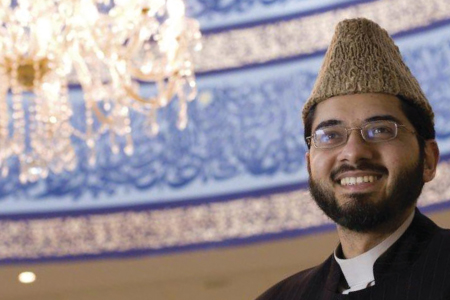 A week in the life of Qari Muhammad Asim MBE
Issue 96 September
Imam Asim was awarded an MBE for services to the community. But as well as being an imam, he works as a lawyer for a top law firm.
Every day of my week is different to the next. I divide my time between my professional job as a lawyer at DLA Piper, one of the largest firms in the world, and my work as an imam at Leeds Makkah Masjid, where I serve the community in the evenings and on weekends. My day always starts with me leading the morning prayers, and I also try to recite verses from the Holy Qur'an for 'spiritual endorphins'. Every morning, I skim over the newspapers and internet to get a feel for the tone and nature of the day's news. Part of being an imam in Britain is that you needs to be aware of all the current issues in the media affecting Muslims—there is hardly a week when Muslims are not in the limelight for one reason or another—so you can get a call from journalists asking you to comment on an issue.
I start work at my law firm at around 8:30am, and usually finish at 7pm. I deal with commercial property, so am involved in supporting the construction of the infrastructure in the region, and around the country, or acting on the purchase, disposal and letting of buildings within the vicinity. There is always a real sense of satisfaction when we complete a project and a new building takes shape, whether it be an office block, retail development, or a new care home. Through this work, I believe I am helping people to realise their aims and potential by assisting them through the legal framework.
I usually leave the office in time for Asr prayer, and on any typical evening after the Maghrib or Isha prayer, I will have meetings with members of the congregation to discuss a range of issues. This can include providing advice on general fiqh matters, or advising on a domestic affair, where I have to engage in marriage counselling by listening to both sides and trying to reconcile their hearts.
Share this


Link to this
Printer Friendly