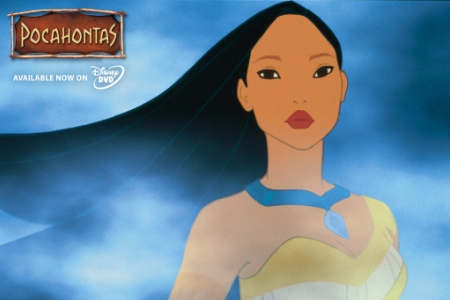 Geller "Savages" Ad - We need Pocahontas!
Sarah Joseph, emel editor, reflects on the "savages" adverts running on New York Tubes
Anti-Muslim blogger, Pam Geller and her cohort at American Freedom Defense Initiative will be funding a series of inflammatory ads to run on the New York tube. "In any war between the civilized man and the savage, support the civilized man. Support Israel. Defeat Jihad." You can see the ad here

My heart cannot totally comprehend the desire to group people as "savages", nor someone's ability to hate in this way, but I take refuge in Disney's Pocahontas. The Native American sings in Colors of the Wind, "You think I'm an ignorant savage / And you've been to so many places/I guess it must be so / But I still cannot see if the savage one is me / How can there be so much that you don't know..." Colors of the Wind

The song continues, perhaps even more relevant given the context of Geller's advert, "You think you own whatever land you land on / The earth is just a dead thing you can claim / But I know every rock and tree and creature/Has a life, has a spirit, has a name."

The land grab that displaced, and defacto, annihilated the Native American, was perceived by the conquerors as the conquest of the savage. The film, Pocahontas, portrays a different perspective on the world with the young princess attempting to show the spirituality of her people, and the shared humanity.
Yet Geller would prefer to portray Muslims in the same vein as the song, Savages, "They're savages! Savages! / Barely even human/Savages! Savages! / Drive them from our shore. They're not like you and me / Which means they must be evil / We must sound the drums of war." Savages

The film is full of wonderful truisms that the likes of Geller could do with. The dialogue between Governor Ratcliffe and Wiggins for example,
Governor Ratcliffe: "Wiggins, why do you think those insolent heathens attacked us?"
Wiggins: "Because we invaded their land and cut down their trees and dug up their earth?"
Governor Ratcliffe: "It's the gold! They have it and they don't want us to take it from them. Well, I'll just have to take it by force then, won't I?"

The Geller 'savages' narrative is to dehumanise Muslims. The tactic is nothing new in it, and has been used throughout history; aborigines, Native Americans, Africans—not exclusively, but especially during the Slave Trade, the Jews by the Nazis, have all been subjected to the "savages" label. The idea that "they" are not like "us".

There is hope—there always has to be! Three New York Jewish groups have spoke out against the ads, "People across New York City are joining the Muslim community to oppose these ads and to ensure that the rights of all our communities are fully protected and that no group is subjected to any form of harassment or racism. Jews Against Islamophobia pledges to be part of that movement for justice." See Mondoweiss article here

The world does not have to be as it is. We can claim a different future for ourselves, of respect and collaboration. Let us all be as brave as Pocahontas, when she tells her father, "Look around you. This is where the path of hatred has brought us." And he finally sees, "My daughter speaks with the wisdom beyond her years. We've all come here with anger in our hearts, but she comes with courage and understanding."

Ultimately, we all have to resist this increasing hatred on all sides, and to reach out to each other, not denying our differences in race, culture, or faith, but embracing our mutual humanity, for the betterment of that humanity.
Share this


Link to this
Printer Friendly