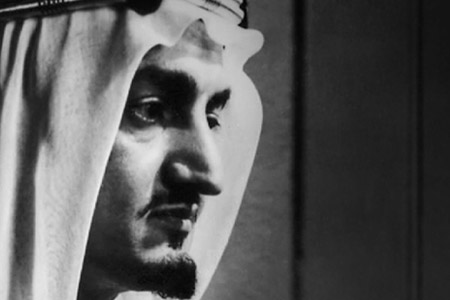 King Faisal A Man of the Ummah
Issue 97 October 2012
It is said of Faisal bin Abdul Aziz that he was born a king, not because of his lineage, but because of his innate dignity and nobility of character. A unique man, loved by millions, he was at the centre of the global political landscape throughout much of the 20th century.
"He acquired moral values from the Qur'an and Hadith. This made him one of the simplest and humblest of people." Prince Turki Al Faisal, son of Faisal
In 1973 King Faisal bin Abdul Aziz Al Saud, the ruler of the Kingdom of Saudi Arabia, cut off Saudi oil to the United States. His action was precipitated by the US government's military support for Israel against Egypt during the October War of that year. It was a daring stand against the world's most powerful nation and the Kingdom's most important ally and set in motion a series of events that changed the strategic balance of power in the Middle East, triggered an unprecedented energy crisis in the West and made the Kingdom of Saudi Arabia suddenly, unimaginably rich. Cheap oil became a thing of the past, control over oil resources shifted from Western oil companies to the countries that produced the oil, the greatest and swiftest transfer of wealth in the history of the world began, and Saudi Arabia became an international force to be reckoned with for the first time in its brief existence as a nation. Ironically, none of this was why Faisal had stopped the oil.
King Faisal's aim was to force the United States to modify its policy in Palestine supporting Israel at all costs against the Arabs and to enforce a just and lasting peace based on UN Security Council resolutions 242 and 338, which gave Palestinians back the lands occupied by Israel in 1967. In this he was to be bitterly disappointed. American policy never changed, Palestinian lands are still occupied, and Palestinians remain a disenfranchised, subjugated people. To add insult to injury, Faisal watched in dismay as the wealth flooding into the Kingdom and oil producing states unleashed a wave of extravagance and greed contrary to everything he stood for.
King Faisal was an idealist. Everything he did throughout his life was in pursuit of a vision: helping his father to unite Arabia for the first time in history, bringing his society into the modern world through development and education, creating an efficient institutional framework for his government, building a unified pan-Islamic political force as an alternative to the conflicting Cold War ideologies of communism and capitalism, and, above all, restoring Palestine and securing justice for the Palestinian people. Time and again Faisal faced crushing disappointment but to the day he died he never lost his ideals.
Share this


Link to this
Printer Friendly