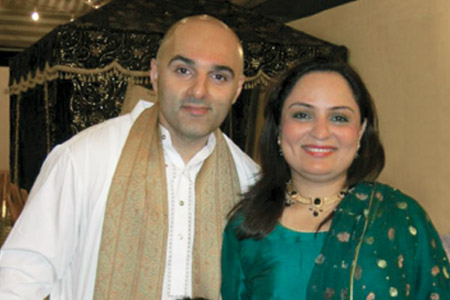 Taking a Gamble
Issue 99 December 2012
Masooma and Asghar agreed to marry each other, but only met face-to-face for the first time a few days before their wedding.
Masooma
On the day I first met my husband, my whole family and all my friends had come round to my house. He had come all the way from the UK to Pakistan for our wedding, and although we had chatted on the phone and exchanged emails, I was still feeling nervous about meeting him. Before we began communicating, I was trying to avoid getting married for as long as possible, but eventually I gave in to my family and agreed to get to know him. When I first saw Asghar, he seemed confident and mingled with my family and friends well.
We were married within a week of meeting each other face-to-face in Pakistan. I had a lot of doubts beforehand, because Asghar was born and bred in the UK, but I had never left Pakistan. The wedding day went well, and I saw a lot of family and friends that I had not seen for a very long time. It was quite tiring and stressful though, and the thought of leaving Pakistan and my family kept popping up in my mind. Asghar kept getting frustrated at the constant nagging of the cameraman, who would make us pose for pictures, as well as the heavy sehra, which is the bunch of flowers that cover the head and face, that he had to wear throughout the day.
When we moved to the UK, I found life very different to what I was used to back home in Pakistan. I grew up in Karachi, which is very lively and full of sounds, and I had lots of my family there as opposed to hardly any in London. But Asghar was very supportive and understanding, and he helped a lot with adjusting to life in the UK. His family was also of great assistance whenever I needed help with anything. In particular, I found life in the UK a lot more fast-paced than Pakistan, with less time for relaxation. Furthermore, nothing can completely prepare you for married life. Every day brings new challenges, as you learn more about each other. Even though I faced these various obstacles, in the end I think it was all worth it as we are happily married with our beloved son.
Since coming to the UK, I have qualified as a medical doctor. The medical exams were tough and required a lot of preparation, and along with raising a small child, it was even more testing. Thankfully, Asghar and his family supported me throughout my endeavour. We do have personality clashes, but we have learned to compromise on most matters, which is key to any successful marriage. Faith has also played an important role in our marriage, because it helps Asghar and I understand our responsibilities towards each other better.
Arranged marriages like ours don't usually happen that often, especially in this day and age. It was a huge gamble for both of us, considering that we only met for the first time a week before our wedding. We put a lot of our faith in our families that we were right for each other and could build a successful marriage.
Share this


Link to this
Printer Friendly