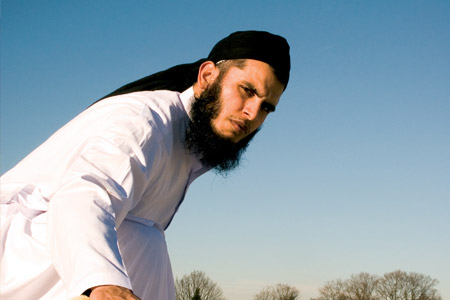 Real Lives: Watch this face
Issue 100 January 2013
Some young people have achieved a lot in their respective fields, and we must acknowledge their talents.
Young people are the future of our community. Unfortunately, they don't have the best image in mainstream society. They are stereotyped as rebellious and disrespectful, and many elders in the community feel that they do not hold traditional values. Even when they do well in school exams, people are quick to say that the exams must be easier now! But there are many young people out there who are doing good work and actively making a difference in their communities. There are also others that have achieved a lot in their respective fields, more than some adults that could have done. The Watch This Face section in emel is dedicated to highlighting these young people, who can inspire others to do more.
Huzaifa Patel has a license to fly a plane by himself at the age of 17. His ambitions stemmed from simple childhood curiousity, when he wondered how a plane stayed up in the air. With support from his parents, he was able to realise his dreams and hopes to one day become a commercial pilot.
If you ever saw Aamir Ghaffar in his traditional shalwar kameez outside the mosque, you would never think he was a star in the world of badminton. He won the Canadian Open in 2004, as well as winning a silver medal at the 2006 Commonwealth Games. When he first started out, Aamir struggled for funds to pay for hiring courts and coaches, and so took on part-time jobs to help support his career. He now coaches kids to play badminton, in order to give back to the community.
Whilst many Arab men actively engage in horse riding, women in the community are discouraged from doing so. Hanan al Muhairi is fighting to eliminate the stigma and is president of the newly founded UAE women's riding team. She is also passionate about filmmaking and produced a documentary about the team, which was met with critical acclaim.
In 2008, we featured Mikhail Ali, who was six years old at the time, and is a certified mathematical genius. When he was three, he was the second youngest member of MENSA, and he has also appeared on Channel 4's quiz show Countdown.
https://www.yohoman.com/Jewelry/Earrings/
Share this


Link to this
Printer Friendly