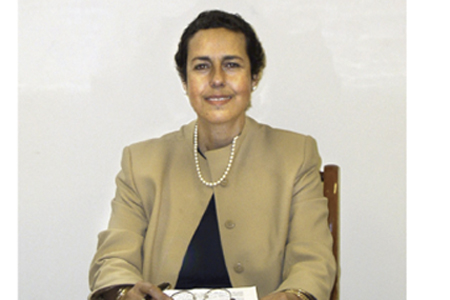 Table Talk - Bridging the Religious Divide
Issue 7 Sept / Oct 2004
Mehri Niknam ushers me into her office, an elegant space revealing itself to be a haven of tranquillity, adorned with exquisite works of Islamic calligraphy and intricate Jewish artefacts. A stunning depiction of Qur'anic scripture inhabits pride of place above the desk and Mehri, noticing it has sparked my curiosity, explains that this is a gift to the Foundation from its Chairman, Professor Nasser Khalili, owner of the largest collection of Islamic art in the world. Khalili, himself an Iranian Jew, recently benefacted £2.25 million to the University of Oxford to create the Khalili Research Centre for the Art and Material Culture of the Middle East.
I wonder at the marrying of faiths that this unlikely office interior conveys - a duality that is inherent in the ethos of the Maimonides Foundation and the dedicated staff who aspire to the goal of mutual understanding. The grace of such a working environment is a reflection of Mehri and together we unravel the mysticism of faith, life and death. Mehri's most discernible influences as a child were her nanny who was a devout Muslim and her grandmother, a devout Jew, "So I was just as comfortable entering a mosque as I was going into a synagogue." At the age of 9, Mehri's classmates were taught religion, a subject she was exempt from because she was Jewish. "I went to the headmistress and told her I wished to attend. From that day I would recite the Qur'an, memorise ayahs and learn to pray and perform ablutions just as everyone else did." She developed an interest in Persian mystical poetry from the age of 12 and revelled in the poetic delight of literary religion.
Moving to England as a teenager, however, proved a difficult transition as Mehri found that her limited English thwarted her ability to communicate. "The English students didn't understand the language of my heart and that made me feel so lonely as expressing myself is fundamental to my character." Unlike her school days in Iran, Mehri was not the only Jewish student at her school in England, however, "The Jewish kids were very Western and I was very Middle Eastern. My culture was Islamic and they were unable to relate to me. The way my emotions inform my actions, my outlook, my manner and mindset are all formed by the culture of my upbringing. Eventually I made a couple of Persian friends and my English improved so things got better."
Audemars Piguet Replica Watches www.apreplicas.me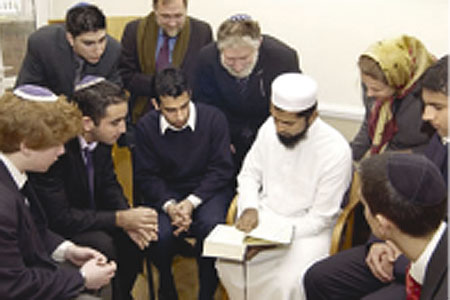 After marriage, the birth of her daughter, and the completion of her studies, Mehri concentrated her efforts in the fi eld of Jewish/Muslim relations. The Maimonides asked her to write a number of programmes before she joined the organisation in 2001. "Six months later 9/11 happened and everyone told us it would be impossible to co-operate with Muslims. But Professor Khalili and I, on the contrary, felt that now more than ever was the time to put our efforts into furthering co-operation." The Foundation was firmly against suspending activities and instead Mehri, "initiated more programmes involving the two communities. The only way we can live in a peaceful multi-faith society is by encouraging people to celebrate our shared heritage."
The problem of distrust between communities is often a result of ignorance, "which prevents people from opening their hearts and receiving the other as a friend." A main element in feeding such suspicion is, according to Mehri, the media. "The media is only interested in news that is controversial. They always pick out divisive and extremist elements." The Maimonides Foundation wishes to counter such misconceptions, "We try to show positive images of each community. The majority from both sides wish to live peacefully but there is always a small number trying to sour this relationship." They endeavour to nurture good relations by organising initiatives to promote interaction, "We arrange educational projects whereby children visit each other's faith schools to partake in discussions and generally gain an insight into each other's lives."
Another successful initiative is the football coaching sessions for Jewish and Muslim children held at Arsenal. "Football is a global language, so what better way to carry forward the message of tolerance. This is an opportunity for Jewish and Muslim children to get to know each other, play football and develop friendships. Parents of the two faith communities are also able to meet each other." Mehri feels this work is vital because, "from a young age children need to understand that there is no need to be afraid of one another." The Maimonides Foundation aspires to motivate Muslims and Jews to confront misrepresentation and counter negative elements within their own community.
Mehri identifies the younger generation as being crucial to not only forming the opinions of the future but also challenging prejudices expressed by their parents or other opinion-forming influences. "The indoctrination of our youth by so-called religious leaders is extremely worrying. They mislead people by pushing aspects of religion based entirely on their own interpretation to further their own ends." Mehri has her own theories on the importance of ensuring religion as a force for peace, "God is unknowable and the fact remains that humans are not infallible. We must work hard to ensure that we understand what our texts are saying." She also cites the importance of leadership. "The Muslim and Jewish community need to be led by individuals who are enlightened and unselfish. For example, Dr Zaki Badawi is one such scholar who has no agenda, he merely seeks to serve the community."
Mehri's spiritual connection with Islam resonates particularly strongly during this period in her life – she has spent most of this year in hospital undergoing treatment for leukaemia. "At those times when I was so close to death, what sustained me was belief in irahman-irahim - the most gracious, the most merciful. I felt the unity of that existence caring for all creation. Such adversity has left her even more committed to her work, "because it will be my legacy." Suffering serious illness has prompted her to, "feel the need even more strongly to open people's eyes to this reality to live a full life," and she reconciles, "in the fullness of time we return to a love that awaits us."
The interfaith plurality of Mehri's life is reflected in the religious spectrum of those who offered their support during her illness, "My Iranian friends prayed for me in Qom at the Holy Shrine of Hasrat Ma'soomeh in Iran and others prayed for me in Makkah. My Jewish friends prayed for me at the synagogues in Jerusalem and my Christian friends prayed for me in the Churches of England and Spain." For Mehri, her prevailing belief has been that, "God hears laudatory prayer for our sake, not for His sake. If you pray for life, peace and the welfare of others, God hears it. God does not hear prayers of hate."
Despite the intensely difficult recent past, Mehri's resounding optimism is unabated. Her positive nature is the embodiment of a strength of character that permeates the work she undertakes at the Maimonides Foundation, "The Jewish and Muslim communities must come together in a union of harmony and truth. There is a Persian saying that if truth comes from the heart, it sits on another heart."
Share this


Link to this
Printer Friendly