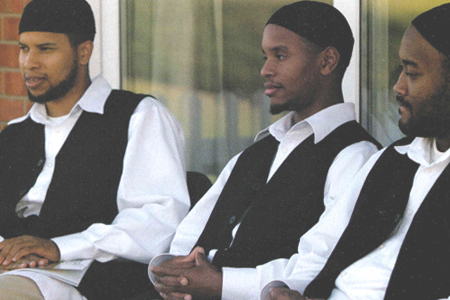 Native Deen
Issue 3 Jan / Feb 2004
…AND TOGETHER WE ARE…
…Native Deen have heralded a formidable phenomenon in Islamic music. Their electrifying nasheed performances have been described as 'hip-hop meets Allah' 'Muslim rap' and 'conscience beats'. Samia Rahman meets the engineers of this exciting and energized faithbased sound.
Native Deen have captured the imagination of Muslims across their native USA as well as the UK and beyond. The variation in the styles they play provide something for the everyone as they ease effortlessly from fast to slow paced songs before launching into a rap and then a soothing instrumental piece. The group are a world apart from their African-American rap contemporaries as they cultivate their sound within the boundaries of Islam. This is done out of respect for the differences of opinion about the use of musical instruments. cartier replica watches
When performing live Native Deen use the traditional drums known as the conga. However, various percussion instruments are used on their albums. The group are inspired by their beliefs and this apparent in their songs all of which deal with topics related to the Islamic faith, Muslim youth and the Muslim community in general.
Native Deen evolved from the Muslim Youth of North America's (MYNA) successful MYNA RAPS project which has produced five albums of Islamic songs and rap written by Muslim youth in the USA. The three members of the group, Joshua Salaam, Naeem Muhammad and Abdul-Malik Ahmad quickly established an original sound after meeting at MYNA RAPS as teenagers. Now in their late twenties they are married and fathers of young children and have extended their spheres beyond the music world. Joshua manages the civil rights division of the Council on American-Islamic Relations (CAIR), Naeem works for Islamic Relief and Abdul-Malik designs web sites and teaches martial arts.
The music industry is better known for encouraging a lifestyle punctuated by excess and hedonism, but Native Deen are not willing to compromise the preservation of their own values. As Joshua points out, "it is not difficult to remain Islamic in music if you have grown up in Muslim communities. You behave within the realms of the music industry just as you would behave outside of it, so naturally everything falls into place because you are being true to who you are and what you believe in."
The group define themselves as Muslim therefore the music they create cannot be anything other than a reflection of their self-identity. As Joshua continues, "we each approach our work with a certain etiquette or adab. We give thanks to God and in everything we do we hold ourselves to this adab."
Native Deen's sound and their lyrics are, according to Naeem, "inspired by reading the Qur'an and listening to the many speeches being given and gatherings we attend. We listen to religious teachings and usually end up discussing what we've heard which leads to an idea for a song or the development of a concept for a piece of music." Abdul-Malik adds that the group "observe what is going on around them and are inspired by other artists as well as the creativity of the up and coming Muslim youth." Naeem agrees. "Whether consciously or subconsciously we are influenced by other forms of music including non-Muslim genres. It was what we grew up listening to. I was into Motown and the Blues because that was what my mum listened to and so ended up being what I listened to.
Many African-Americans, who make up a third of the US Muslim community, are into hip hop because it is an art form that connects with people who feel alienated or marginalised. There were no Muslim role models for young people who were into music when I was a youngster. Now, that is changing as we have a new generation who are growing up on Native Deen as well as the many other talented Muslim music artists that are out there."
So how do Native Deen reconcile the teachings of the faith with their own elevated status as popular musicians with an army of adoring fans? "We keep each other grounded," explains Joshua. "We don't see ourselves as icons or role models although we accept the responsibility that comes with being the limelight and endeavour to be an inspiration and guiding light towards the path of Allah for those who are gracious enough to listen to music."
Native Deen recently preformed at London's Royal Albert Hall, accompanying Yusuf Islam on his first major performance in the UK for over 20 years, singing a reworking of the 1970's peace anthem 'Peace Train'.
On the night Native Deen also gave the audience a sneak preview of a new track called 'Deen you Know' from the forthcoming album. The album, which is Native Deens' first with record label Mountain of Light, is scheduled for release in spring 2004.
For further information about Native Deen please visit www.mountainoflight.com

"We each approach our work with a certain etiquette or adab. We give thanks to God and in everything we do we hold ourselves to this adab."
Share this


Link to this
Printer Friendly