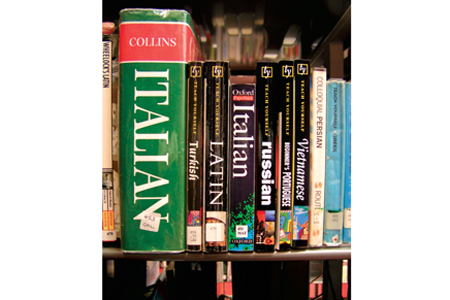 Mother tongue and more
Issue 4 Mar / Apr 2004
Do you speak any other languages? What do you remember about learning French at school? For many people, speaking another language is seen as something of an achievement, an asset or a bonus even. But for others, being bi-lingual is the norm and is something which they take for granted. Rawya Ahmed finds out why we should celebrate bi-lingialism.
New research shows that children who speak at least two languages do better at school than those who speak only one. So which other languages apart from English are spoken in schools? The top mother tongues spoken in London schools are English, Bengali, Sylheti, Punjabi, Gujarati, Hindi, Urdu, Turkish, Arabic, English-Based Creoles, Yoruba and Somali. A significant number of these are languages are spoken in the Muslim community. So, how do British Muslims view being bilingual?
According to British born Egyptian Asmaa Abdel-Salam from Newcastle, "Being bi-lingual is definitely an asset which cannot be underestimated. As a fluent speaker of English and Arabic, I definitely feel privileged because I am in a position whereby I can be an active participant in both worlds, without the frustrations of a language barrier. Many second- generation immigrants do not appreciate this asset and take it for granted but I have made an active decision to attempt to learn Arabic to the same level of proficiency as my first language, English by studying for a BA in Arabic with Middle Eastern Studies."
Lateefah Annagib from Birmingham also sees this as being positive, as a speaker of both Indonesian and English she says, "Being bilingual is something which I see as opening doors for me, in terms of both my career and general communication with others". Musa Khalifa, a British Born Ethiopian and speaker of both Amharic and English says, "It is very useful and advantageous in some aspects and you cannot overestimate it's value."
However others view this in a different way. Reem Nawari, a British born Sudanese from Birmingham points out, "I probably take being bi-lingual for granted most of the time, it's the way it has always been for me growing up knowing both languages, so I don't really think about it." For Saeida Rouass, a speaker of both Arabic and Berber from London, and a second generation immigrant and ESOL Lecturer (English to students of other languages) "you assume that people can speak a second language. It is a surprise to find being bi-lingual is not as common as it seems." Asim Ali from Birmingham, says of his Urdu "It's something I took for granted, my parents used to drum it into me as a child, so that I could communicate with others, however I now value it's importance. "
Britain does not have a strong tradition of teaching languages. We are already taught some French in school, as well as perhaps German, Spanish or even Russian, but are any measures being taken to teach the other community languages, the languages of our parents? In a growing number of cities language courses (including community) aimed at both adults and children are being set up often as a result of government funding. On completion of such courses students often take a formal exam such as GCSE, A-level or are awarded a certificate to say that they have attended such courses. If this is then the case, why do many people shun away from such languages, opting to take instead Japanese, Spanish or say Swedish?
According to Kausar Ali, who organised an Asian Languages Conference in October last year, "Many children feel embarrassed and even ashamed of speaking say Urdu, Arabic, Punjabi, etc." That is to say, as second-generation immigrants, we do not appreciate it's importance and relevance and how it can contribute to society. However there are many reasons for teaching a community language and these can be categorised as being of Economic, Social and Educational importance. Economically, community language speakers have a key role to play in both the public and private sectors of the service industry. Noting this, Maiee Ahmed, a pharmacist from London adds that, "Speaking another language helps me in my work when dealing with patients, they feel at ease and in some cases overjoyed when you speak their language." Socially, valuing a language means valuing its speakers and it's associated culture. Educationally, unless community languages are integrated into mainstream provision the only option open to parents who wish to preserve their community language is to send their children to separate schools. Such segregation creates as many problems as it apparently solves.
And what about the future of community language learning? It seems that many second- generation immigrants are very keen on teaching the future generation their language. How do they intend to ensure this? By taking them on holidays to their country of origin, having them spend time with their grandparents, teaching them at home and many others. As Saeida says" I intend to teach my children Arabic and Berber as it's a link to their heritage" Asim also points out that, "by teaching them privately their importance would be valued greatly". Lateefah goes on to say that, "It's important to take my children back to the country of their heritage for holidays, so as to see how people are and experience their way of life." Musa adds that, "It's vital that I teach my children Amharic, as they have to remember where they came from and their origin" However for one family, Souad a British born Egyptian married to Tariq a British born Indian, teaching only Arabic to their children was a conscious decision which they took, as they saw Arabic being more important for teaching amongst many things but most importantly the Quran.
As we can see, community language learning is changing and for many people it's importance is slowly being discovered and appreciated more. So, why not find out about the various community language courses on offer, by visiting your local college or school?
Share this


Link to this
Printer Friendly