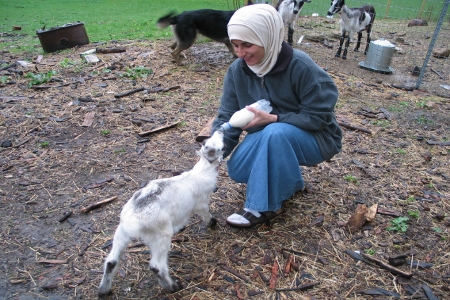 Project Farming
Issue 57 June 2009
Shireen Pishdad, 37, is the founder of Taqwa Eco-Food Co-op, and ran the company for its first five years. Using the cooperative as a business model the initiative provided organic meat from local, sustainable farming sources.
Taqwa Eco-Food undertook the Islamic impetus to eat conscientiously by providing organic, halal and zabiha food to the Chicago Muslim community. I worked with small-scale farmers and processors, many who had no experience with Muslims, yet were very open and receptive to Islam.
During the five years I ran the co-op I also tried to introduce the idea into the Muslim grocery stores, but those who bought Taqwa meat were few while the majority still want cheap meat, which was an obstacle. Recently the co-op went through two other directors before shutting down.
Among the lessons I learned is that organic food is not a solution, but only a stepping-stone, because the niche market is both elitist and constantly under attack by the industrial-corporate food complex. The solution is local and sustainable agriculture: local because the community has a vested interest over the land and control over its production; sustainable because it encompasses wholesomeness and justice.
But the real lesson this venture offered me is that the crises afflicting our globe are only symptoms; the roots of which lie in our own spiritual ailments. And so a cure can come from nothing less than the Qur'anic prescription to change what is within our own souls, whereupon God promises to change our conditions. Sustainable societies materialise by cultivating the human spirit. An edified community can forge harmonious relationships with each other, with the eco-system of which we are an organic and spiritual component, and above all else, with God.
Sustainable land cultivation is a profoundly effective means to reverse climate change and rebalance the environment, bringing back the abundance of our naturally wholesome planet. Yet, there is so much more.
Agriculture — a practice of all the Prophets and numerous past Muslim scholars — returns us to the divine meaning of 'neighbour' as spiritual connections with each other, and with the animals and plants, themselves communities that worship God. By reinstituting 'neighbourliness' we address poverty, conflict and ecological destruction in the most effective way.
Community agriculture creates neighbourhood glue, economic strength, and communal freedom. Without its own localised agricultural sector a community has neither connection nor care for its land and resources. It may be, in part, for this reason that our beloved Prophet Muhammad instructed us never to give it up: "Should the Day of Judgement come, and one of you has a palmshoot in his hand, let him continue to plant it."
As my journey continues I plan to keep contact with my network of "foodies" and bring Islam into the conversation through writing articles and developing a website. But the real challenge I have embarked upon is to become the change and sow the seeds of neighbourliness by cultivating my spirit, family and land through three goals: home-schooling, suburban homesteading and developing urban community gardens. All three are embodied in the vision of a sustainable global civilisation built of empowered, creative families within functional, autonomous communities; in the same way, the whole global eco-system is composed of an abundance of localised eco-systems.
Click here to return to main article
Share this


Link to this
Printer Friendly