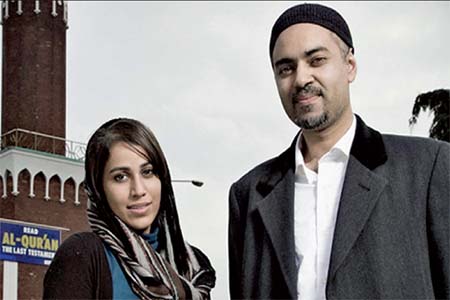 Documentary Muslim and Looking for Love
Issue 60 September 2009
Documentary Muslim and Looking for Love
Review by Anna-Maria Ramezanzadeh
'Muslim and Looking for Love', a phrase you certainly wouldn't want to type into Google, is the title of a new Channel 4 documentary concerning the ever present issue of marriage in the Muslim community. With the increasing integration and settlement of Muslims into British society, appropriate marriage partners, according to the programme, are a scarce commodity for those young British Muslims wishing to marry likeminded individuals. But for those seeking a middle path between traditional arranged marriages and the western dating scene, Birmingham Central Mosque provides what it sees as a revolutionary new service, the Muslim Marriage Bureau to aid young Muslims in their journey through finding suitable partners for marriage.
At the helm of this enterprise are the 'matchmakers' Mr Haq and Mr Razaq. With their grey hair, long beards and traditional Asian attire, Mr Haq and his counterpart, could not be more unlikely figures for a matchmaking service, but as the saying goes: looks can (and certainly are in this case) deceiving. To their credit, the pair, with almost two decades of experience under their belts, seem to have a remarkable grasp of the situation facing young Muslims searching for their 'other halves', realising that, having grown up in a very different culture to that of their parents, many want a greater say in their choice of partner.
Thus, from their 'database' in Birmingham Central Mosque (a colourful set of lever arch files), the team collect information and make recommendations to prospective applicants. Facilities for couples to meet with their parents or chaperone are also provided, thus 'halalifying' the 'next step' in the marriage process. With four months exclusive access in which to document the workings of this landmark institution, the producers followed the quest of a number of individuals to find a suitable spouse. Although a documentary about marriage in the Muslim community is usually a rallying cry for Muslims to phone in with their complaints, this programme is in fact refreshing in its portrayal of young British Muslims as 'normal'; English speaking, educated members of society wishing to embark on the next stage in their lives. One needn't look further than the comments section of the programme's website for a testament to this fact; it is not often that viewers respond with remarks along the lines of 'the Imam that was arranging the marriages was a dude!'
Though the very idea of asking external parties to mediate in the marriage process may seem contentious and indeed in danger of provoking resentment from parents of those involved, the Bureau makes every attempt to educate the older generation also, gently awakening them to the fact that their children are not accustomed to the same traditions and cultural practices that they themselves experienced.
Though the programme strays dangerously close to a Hollywood style plot when it becomes apparent that two of the central individuals are potential matches, true to Channel 4's reputation of portraying stark realities, alas sadly for the young Muslims involved none of them have found their future wives or husbands by the end of the programme. But, as Mr Razaq succinctly puts it 'sometimes it works, sometimes it doesn't, alhamdulillah, c'est la vie.
Despite the rather unhappy ending, the programme does well to dispel several myths surrounding the issue of Muslim marriages. One young woman for example certainly catches viewers' attentions when she reveals she's happy to have a chaperone present at her meetings, and whilst the idea of having your parents involved in the marriage process may horrify some western viewers, one male applicant is not afraid to say he appreciates their input and, though he doesn't like to admit it, most of the time they're right.
Whilst the programme may rightly raise a few eyebrows at some of the other 'fishing tactics' of some young Muslims, such as social networking at charity events, it highlights what is a growing problem in the Muslim community across the UK, that of finding suitable partners for educated British Muslims.Judging from the thousands of happy couples Messrs Haq and Razaq claimed to have matched however, it seems all is not lost, there is a potentially viable if not ground breaking solution to this dilemma,albeit still in its 'ring binder' stages.
Share this


Link to this
Printer Friendly