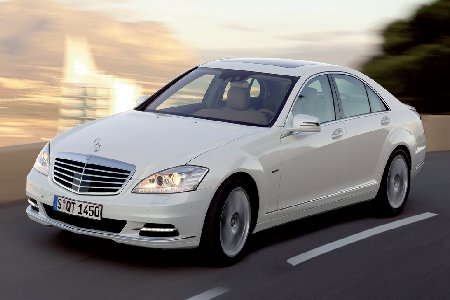 A Model of Perfection
Issue 60 September 2009
Cruising around in the lap of luxury, Daniyal B. Babar finds his childhood dream has not been disappointed in the Mercedes-Benz S-Class.
"The ride and handling of the S-Class is simply sublime. It is a comfortable ride with utter composure and stability."
VITAL STATS – Mercedes-Benz S-Class
Price: TBA
Engine: 2987cc V6 diesel
BHP: 235@3600rpm
Torque: 398@1600-2400rpm
Fuel economy: 37.2 mpg (combined)
CO2: 199g/km
0–62: 7.8 seconds
Top Speed: 155mph
Insurance group: 20
The flagship Mercedes-Benz model, now known as the S-Class, is a car I have been fascinated by since I was a young boy. Back in the early 80s it was in the guise of the 500 SEL. I didn't necessarily know what the numbers or the letters in the model designation meant, but I knew it contained the biggest number and the longest letter combination in the Mercedes-Benz range at the time, so it had to be the best model, surely? Well, my childish logic proved me right.
For me it was simply the best car in the world and I longed to drive it (or be driven in it). Whenever I spotted one on the busy streets of London, I would look on in admiration from the back of our family Volkswagen Golf. Little was I to know that I would get to drive one, four model generations later, which brings me neatly onto the subject of this review. Now, casting a glance at the pictures you may be forgiven for thinking "Hold on, this looks similar to the S-Class released three years ago." This is because what you are looking at is the "facelift model" or the "model refresh" which is what some manufacturers provide at some point in the life of a particular model. This usually comprises of some tweaks to the interior and body as well as updates to some or all of the engines. The story is no different here.
The sector leading S-Class is still imperious as ever in both looks and performance. The more discerning among you will have noticed the LED daytime running lights which are now in vogue on modern cars, particularly Audis. In addition, there are updates to the rear light cluster, front grille and now there are integrated exhausts. As for the cockpit, the beautifully leather-wrapped multi-function steering wheel (in conjunction with smoothly polished wood as an option) has improved button clusters, feeling much more tactile than the slightly flimsy ones on the outgoing model. Not a great deal else has changed, however a very clever piece of technology called SPLITVIEW allows the driver and front passenger to view different content on the same screen, which is pretty impressive stuff. The rest of the interior has not changed a great deal, after all, "if it ain't broke don't fix it".
The cabin is what one would expect of a luxury saloon and is a very pleasant place to be in with expensive-smelling leather seats for all occupants. As an option, the driver and front passenger can treat themselves to a massage via their seat with a number of settings to tickle (or massage, I guess) their respect ive fancies and should their shirts begin to stick against their backs, there is the ability to ventilate the chairs. A number of functions are controlled by Mercedes-Benz's take on BMW's iDrive using a rotary dial which can be pressed to selec t any particular function on the screen. So, the comfort and refinement boxes are well checked here. As for the engines, Mercedes has improved fuel consumption and reduced CO2 emissions across all engines with its BlueEFFICIENCY measures. Of greatest note is the S400 BlueHYBRID engine that is the new kid on the block. Don't get too excited though as this engine will not be coming to the UK, the reason for which is that the batteries would sit where a right-hand drive steering column would be. But on the other hand, this is not completely bad news as the new S350 CDI BlueEFFICIENCY has better fuel economy with greater torque, albeit at the expense of slightly greater CO2 emissions. So we in Blighty shouldn't feel too hard done by.
I felt I had to test this model out of journalistic integrity given that this is likely to be a best seller in the UK (I had to decline driving the rangetopping S600 V12, sob sob) and was impressed with its refinement given that it is a diesel. There is a subdued clatter and a pleasant multi-cylinder sound when the engine is pushed. Some car enthusiasts don't like the way diesel engines deliver their power, but they fit in the way most people drive cars nowadays.
I did, however, treat myself to the S500. It would have been rude not to since this model represents the classic epitome of luxury motoring. Of course, fuel economy is not at all in the league of the diesel but then again you don't buy a 5.5 litre powered car for that. The engine is smooth and quiet as one would expect, but when you bury the accelerator into the plush floor mats you get a restrained yet distinct V8 burble which is one of the most pleasurable sounds one can experience in a car. The acceleration is good especially when you remember that it has to shift near on two tonnes.
The ride and handling of the S-Class is simply sublime. Air suspension is standard except on the S600 and this leads to a comfortable ride with utter composure and stability; it is amazing how nimble this large car feels on a twisty road. The new Torque Vectoring Brake feature comes as standard on all models and allows for one of the wheels to be braked automatically during cornering in order to optimise motion while negotiating bends. There was a Sport suspension setting on the cars I drove, but this seems superfluous since the car rides so well anyway. A modification has also been made to the ABC (Active Body Control) which stabilises the car in the presence of crosswinds. Pootling around town has been made easy with variable assisted steering which means that at lower speeds the steering becomes lighter; very handy when parking. If you are feeling lazy, you can use something called DISTRONIC PLUS which is a system that uses radar to maintain a set distance from the vehicle ahead. This means that in traffic, it will bring the car to a halt if necessary and then take off again once the car in front starts to move. It was slightly unnerving to test this for the first time, but becomes easy to trust once you see it work and this becomes a useful tool in congested city centres. With all these features, no matter how long you have been driving, you leave the car feeling as fresh as you did when you entered it.
There is a whole raft of safety features to give both the S-Class driver and passengers peace of mind. Now you can have Night View Assist Plus which uses an infrared camera to detect pedestrians on the road ahead and thenhighlights these to the driver on the multimedia screen. There is also something called Speed Limit Assist which uses a camera behind the windscreen to detect speed limit signs and then displays this on the speedometer. This is a very effective tool and should help you save points on your licence. If all these gimmicks aren't enough, should your rolling about lead you to feel a little sleepy, there is a drowsiness detection system called ATTENTION ASSIST which constantly monitors no less than 70 different parameters and if it feels you need a wake-up call it will alert you with a warning sound and insist that you take a break via a message on the instrument cluster...unfortunately, it won't make you coffee.
All in all, it is not surprising that the Mercedes-Benz S-Class is the world's most successful luxury saloon. It combines elegance and style both inside and out. It provides a great driving experience and is a technological tour de force. In fact technology that we have in our cars today often debuted in a previous S-Class. There is a new BMW 7 Series out now and it will be interesting to see how it compares. I am sure of one thing though: it will certainly have its work cut out.
Share this


Link to this
Printer Friendly