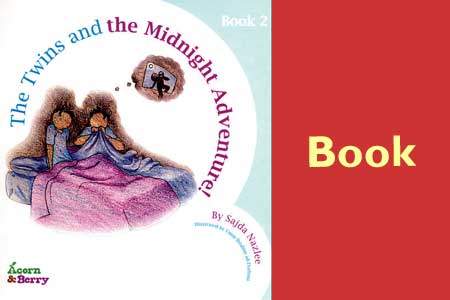 The Twins and the Midnight Adventure
Issue 62 November 2009
Review by Amara Khan
Aged 8
I really enjoyed the book, The Twins and the Midnight Adventure. My favourite part of the book is when the twins wake up in the middle of the night. They are really scared and they think that a burglar is in the house but later on they realise that it's their uncle who wakes up for a midnight prayer. The one thing that is different to other books is that the characters don't have any facial features. I would still recommend it though!
Review by Amena Mussa Sacranie
The Twins and the Midnight Adventure' is an illustrated children's book, based on twin brothers Usamah and Luqman who are a little too curious for their own good. They like to play detective games, and so assume the worst in some situations. The story begins with the twins going for a holiday to their Uncle Shu'aib's house.
The book is angled to give children an insight into Islam, filled with hadith and lessons to learn.
The illustrations are quite unique, in that they do not have faces; which caters to those who believe that we should not depict human faces or expressions. Whilst some parents may worry that this lack of expression might disturb their children, when I read this book to my little brother, he did remark on the 'no faces'- however as the story went on and he learnt about 'qiyam' and the bounties of praying at the mosque, he became too engrossed to notice anything else. A wonderful children's story, recommended reading for little ones.
Share this


Link to this
Printer Friendly