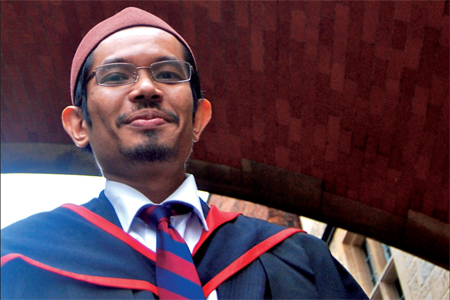 Dr Afifi al-Akiti
Issue 62 November 2009
Dr Afifi al-Akiti - also known as Shaykh Afifi - is a man with many hats. When he dons his mortarboard he is the ever erudite Oxford scholar. Walking through the historic stone-walled city, he bears the positions of Fellow at the Oxford Centre for Islamic Studies, Lecturer in Islamic Studies at the Faculty of Theology - Oxford University's oldest faculty - as well as holding a Lectureship in World Religions at Worcester College, University of Oxford, where he teaches both Islam and Christianity.
Yet when he takes his position at the front of the mosque, sits on the floor and ties his ulema imama, he is the classically trained Muslim theologian and skilled faqih. Steeped in both Islamic and Western academic cultures, Dr Afifi is blessed with a rare insight.
The mortarboard, he notes, is inspired by a madrassa graduation ceremony where students would reverently tie the Qur'an upon their heads. Similarly, the Oxford one-on-one tutorial system mirrors the traditional relationship between shaykh and student. As the first ever Malaysian Oxford Don, Dr Afifi continues breaking boundaries, reaching out far beyond the dreaming spires; in addition to his critically acclaimed written works, he has worked on several BBC documentaries, including the recent Science and Islam.
Share this


Link to this
Printer Friendly