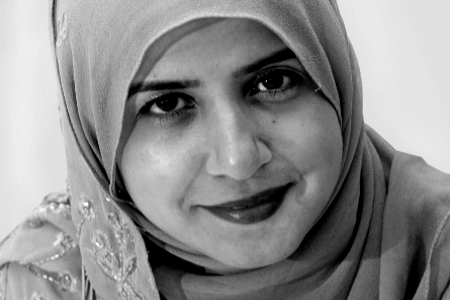 Muslim Men, This One's for You
Issue 62 November 2009
Muslim women are changing the world. Fed up with voices on all sides telling us how we should dress, what is 'right' for Muslim women, and how we should either be defending Islam or in other cases dismantling it, Muslim women are getting themselves together and initiating change. But what does this mean if you are a Muslim man?

I should make two statements here: first, that I am an advocate for Muslim women and the changes that they want to make to traditional structures within Muslim communities, from within the faith. I believe Islam has a blueprint that offers liberation for both genders. Second, whilst there are some great changes afoot, an unspeakably huge amount still needs to be done in order to redress the oppression that Muslim women face from all sides.

With this in mind, I ask again, what if you are a Muslim man? It is a challenge being a Muslim woman, but I imagine that it is also a challenge being a Muslim man. There are plenty of books, talks and articles produced about "Women and Islam" but what about " Men and Islam." It even sounds strange, doesn't it?
Take part in our facebook discussion here
To read the rest of this article, get your latest issue of emel magazine>
1) Delivered to your door for only £3.50 with FREE Postage and Packaging
You can get your latest issue of emel with FREE Postage & Packaging.
Contact us now and we will send you the latest issue of emel for £3.50, with absolutely no extra cost for postage and packaging.
Call us on 020 7328 7300 or email info@emel.com.
2) Find your Local Stockist
Your latest issue of emel is also available in stores nationwide including WHSmith and Borders.
3) Subscribe for one year - now only £29.95
You can subscribe for only £29.95 (that's 50% off the standard UK subscription price) and get 12 issues delivered straight to your door, every month..
Call us on 020 7328 7300 or email info@emel.com
Share this


Link to this
Printer Friendly