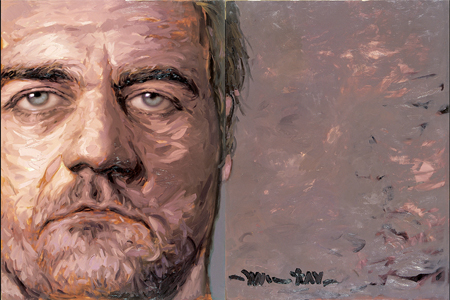 'Point of Departure: A New Beginning in Contemporary Iranian Art'
Issue 63 December 2009
Review by Fatema Zehra Bandali
Steps Gallery London
The emerging influence of the Middle East is ever prevalent in contemporary art, with recent exhibitions such as 'Edge of Arabia', documenting the creativity of artists from Saudi Arabia. The Steps Gallery welcome three contemporary Iranian artists, namely Babak Rashaninejad, Reza Azimian and Adel Younessi - who all aim to give an insight into life, social and cultural reality in Iran. Guest curator, Satkeen Azizzadeh, describes the exhibition as "playing a role in the effort to bridge the gap between cultures and create an international dialogue." This is reflected in Azimian's depictions of the role and dependency on technology in Iranian society today. Azimian illustrates this through his series of human figures, waiting to be fully downloaded on a computer screen.
'Point of Departure' differs from many previous exhibitions of contemporary Iranian art, focusing solely on figurative and representational works rather than the commonly seen Persian motifs and calligraphy. The use of bright and vivid colour is immediately apparent, drawing the audience into a story of various dimensions of Iranian life. Painter Babak Roshaninejad's works include a wide array of subjects - from mundane objects with hidden meaning, to the graceful face of the man with strikingly sad eyes. Roshaninejad conveys this notion well, stating, "Painting for me is like wandering around my city, searching for and finding new routes… And at times, it is just about being."
The intimate nature of each canvas draws viewers into an emotional plain of each artists view of life in today's Iran. The use of exaggerated and bold brush strokes give certain pieces a raw intensity, leaving suggestions for further meanings and metaphors. Other pieces are left open to interpretation, often portraying 2D subject ideas such as a cassette tape or a barcode. Other pieces instantaneously strike the audience with its theme, such as the line of army clad officers, suggesting more obvious political themes. The amalgamation of the exhibition draw out the various aspects of how one would imagine modern day Iran. By appointment only.
Share this


Link to this
Printer Friendly