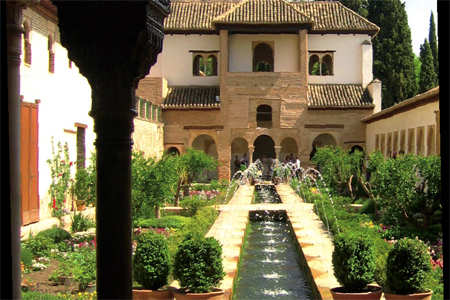 The Majesty of Generalife, Andalucia
Issue 64 January 2010
For the first in our series of international gardens, emel features the magnificent gardens of Alhambra, Granada.
Gardens have always been an enduring feature of Islamic culture. Motivated by the Qur'anic descriptions of the ultimate Garden, caliphs and sultans, emperors and amirs, princes and regents were invigorated enough to recreate a distant resemblance of that final Garden. The poet Sa'id composed for the caliph al-Mansur, "And the gardens reveal the splendour/of the daisy's smile/and the tender narcissus gazes/at the anemone's cheek/while the gentle wind bears/the scent of sweet basil/may you pass an eternal lifetime here/in happiness and peace."
Popularly known as the Generalife, the palatial gardens in Granada, Spain were originally known in Arabic as the jannat al-areef (the architect's garden). The gardens were the ultimate relaxation spot for the 12th century Sultan of Granada, Muhammad III. Built between the 12th and 14th centuries, the Palace was designed as a rural villa in the vicinity of the Alhambra, with decorative gardens, fruit and vegetable patches, courts and other structures to aid courtly contemplation and royal relaxation.
After the expulsion of the Muslims from Spain, Rolex Replica the Catholic monarchs had assigned a keeper to watch over the Palace and its gardens and make improvements. In 1631 the keeper's charge was given to the Granada-Venegas family until 1921, when the state was awarded custody of the premises. Today, the Generalife consists of the High and Lower gardens, two Grand Courts, a water stairway, two promenades, numerous water ponds and the Generalife Palace, which was originally linked to the Alhambra by a covered walkway across the ravine that now divides them.
To read the rest of this feature, get your latest issue of emel magazine>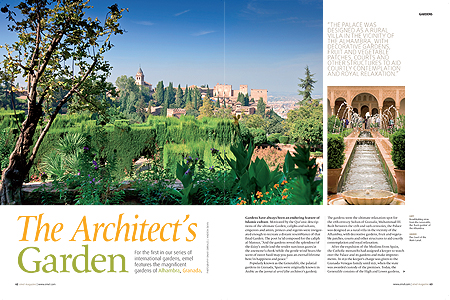 1) Delivered to your door for only £3.50 with FREE Postage and Packaging
You can get your latest issue of emel with FREE Postage & Packaging.
Click here for terms and conditions
Call us on 020 7328 7300 or email info@emel.com.
2) Find your Local Stockist
Your latest issue of emel is also available in stores nationwide including WHSmith and Borders.
3) Subscribe for one year - now only £29.95
You can subscribe for only £29.95 (that's 50% off the standard UK subscription price) and get 12 issues delivered straight to your door, every month..
Call us on 020 7328 7300 or email info@emel.com
Share this


Link to this
Printer Friendly