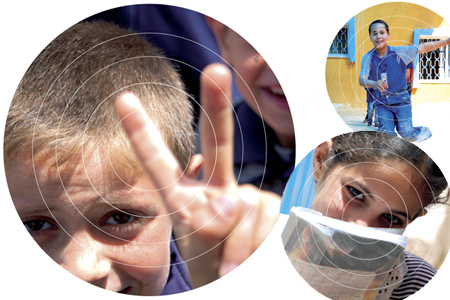 Children of War
Issue 64 January 2010
Nearly ten months after the Israeli incursion in Gaza, the scars point to the suffering of the region's most vulnerable. Remona Aly examines what measures are being put in place to help the children of conflict.
It is said that a child's smile is one of life's greatest blessings. Something as simple as a smile is often taken for granted, but when it is taken away what blessing is there left to enjoy?
Just over a year ago, Gaza saw the beginning of the bloodiest war it had witnessed when the Israeli army continued its relentless onslaught causing well over a thousand Palestinian deaths. The most vulnerable to suffer the war's blow were the children of Gaza.
The trauma suffered by the 800,000 Palestinian children, half of whom are under 15, growing up on the West Bank and Gaza Strip has been the subject of numerous reports in recent years. The numbers of children showing symptoms of trauma increased dramatically during the incursion which began on 27th December 2008.
Charities rushing to work on the ground num- bered at around 300, and Muslim Aid was one of the lucky few to get through the Gaza blockade to look at the devastating repercussions the attack has had, particularly on children. The picture they paint is grim. The daily instances of violence and confrontation has led to behavioural problems as well as high rates of depression and anxiety. Soon after the war, the Gaza Community Health Programme estimated that half of Gaza's children, around 350,000, would develop some form of post-traumatic stress disorder. Tragically, that was proved true. "The psychological effects of violence (on children) are severe and traumatising," asserts Dr Eyad El Sarraj, Chair of the Gaza Community Mental Health Programme. "While many injured children have acquired a permanent physical disability, many more have developed psychological impairments. The prevalence of neurotic symptoms and behavioural problems among children, such as disobedience or irritability, is high." Dr El Sarraj quotes some recent research in the Gaza Strip, which found that some 32.7% of children suffer severe levels of post-traumatic stress disorder (PTSD), 49% moderate levels, and 16% low levels.
Fatima Ahmad ad-Da'alsa, a widow from Gaza, speaks anxiously about her son Saa'id. "This boy, whom you see is quite big, used to run to me crying when he heard the horrible loud bombs. I used to hug him and calm him down. We would to shroud our children in their beds. They used to shiver and cry even while we hopelessly hugged them, fed them, reassured them. The fear was unquenchable."
To read the rest of this feature, get your latest issue of emel magazine>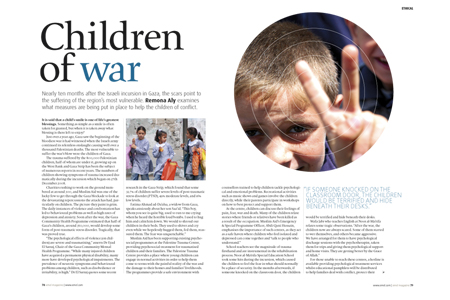 1) Delivered to your door for only £3.50 with FREE Postage and Packaging
You can get your latest issue of emel with FREE Postage & Packaging.
Click here for terms and conditions
Call us on 020 7328 7300 or email info@emel.com.
2) Find your Local Stockist
Your latest issue of emel is also available in stores nationwide including WHSmith and Borders.
3) Subscribe for one year - now only £29.95
You can subscribe for only £29.95 (that's 50% off the standard UK subscription price) and get 12 issues delivered straight to your door, every month..
Call us on 020 7328 7300 or email info@emel.com
Share this


Link to this
Printer Friendly