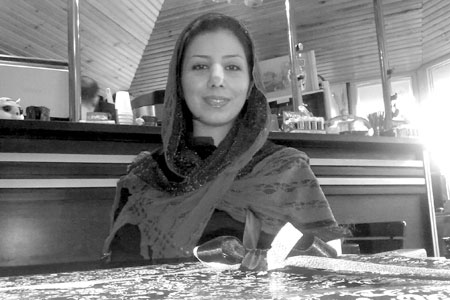 Paying Through the Nose
Issue 66 March 2010
Iran has the highest amount of 'nose jobs' per capita. Tahereh Hadian meets with women who have put their noses under the knife.
With an estimated 1 in every 700 people having a 'nose job' in Iran, it is the 'nose job capital of the world'. Popular among women and men from all social classes and cultural, religious and political backgrounds, the 100,000 operations per year range in price from £250 to £4,000, depending on the reputation of the surgeon.
Some analysts relate this epidemic to the state's imposition of a strict dress code where women have to cover their bodies and hair, leaving the nose as a prominent facial feature. This would not explain the rise of the male 'nose job' however. Others relate it to a resistance to the states' Islamic values, although this fails to explain why many of the wives and daughters of government officials and high ranking religious leaders also go under the surgeon's knife. Others blame the influence of Western models of beauty streaming into Iranian homes through satellite channels and the internet. Others still put it down to boredom amongst Iran's youthful population, 70% of who are under 30.
Whatever the reasons, with the post operative plasters having become a status symbol, the story of 'nose jobs' in Iran poses a fascinating cultural question which needs to be addressed.
Maedeh, 25, who comes from a religious background notes that she wanted to have a nose operation because she, "Would look more beautiful," and says, "It was my own, personal attitude. I haven't been influenced by the dominant Western image of beauty represented through Hollywood films." Her family was supportive of her decision as long as the operation resulted in a natural looking nose. Maedeh further defends her decisions on religious grounds, "God has given us facilities nowadays to improve our appearances and self confidence." She refers to the Prophetic saying, "God is beautiful and likes beauty."
A famous plastic surgeon in Iran, Dr Kazemi, notes that Iranians have a historical legacy with regard to beauty since ancient times. Citing mass education and economic ability to pay as reasons for the growth in modern plastic surgery he feels that, "Iranians have big noses and thus the popularity of rhinoplasty in Iran is reasonable."
Many young girls cite breathing difficulties as the reason for their nose surgery. Negar, says a 'nose deviation', which had caused her breathing problems led her to the surgery. Whilst there, she also had cosmetic surgery performed, explaining that her "own nose was good but she wanted the point of her nose to be upwards." Like Maedeh, Negar's parents supported her. "My Mum encouraged me, and my Dad - who was neutral- paid for it." She further explains that a main reason for undergoing the operation was to improve her body image and subsequently her confidence. Negar believes that other cosmetic surgeries such as chin operations, fingernail implants, embedding fake diamonds in the gums, tattooed eyebrows, and breast implants which have also become popular, are unnecessary and push things too far, but that nasal surgery is reasonable.
Given the number of nose operations, perhaps it is no surprise that corrective surgery of botched operations is also on the rise. Dr Abidipour, retired head of plastic surgery at Tehran University describes the issues. "I had a patient sent to me for corrective surgery who had undergone a nose operation 20 times, at a cost of US$120 a time. The operations had been carried out by the same doctor. Her nose was in a horrible state." Iran's Justice Ministry has been forced to establish a special office dealing with complaints and has dealt with 1,000s of cases since its inception.
Such problems have not led to a decline in the number of people who pursue cosmetic surgery in Iran, much to the discontentment of some Iranian feminists. Farzaneh Azdari, who has completed her studies in Islamic Judiciary and Theology with a focus on Women's Rights notes, "One should not interfere in God's creation, specifically if it can be harmful for the body." Azdari believes that cosmetic surgery can only be justified in Islam "as a cure." She feels there has to be "cultural innovations by the intellectual community" in order to build "self-confidence and self-esteem among both women and men."
Whatever the cause, whatever the cure, there is no denying the phenomenon. Given Iran's international reputation and problems, the fact that it is the 'nose job' capital of the world seems counter intuitive, but then again, does taking a hammer and chisel to your face ever make sense?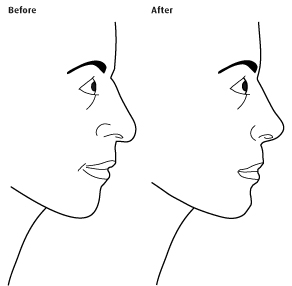 An 'upward tilt' is sought after in nose surgery. There are standard nose types that are popular with those seeking cosmetic surgery including 'The Diamond Nose' and 'The Rosenberg Nose'.
This feature was first published in Issue 67 (March 2010)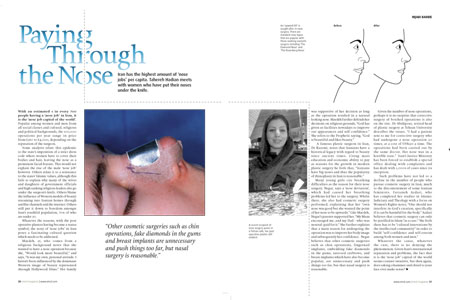 Share this


Link to this
Printer Friendly