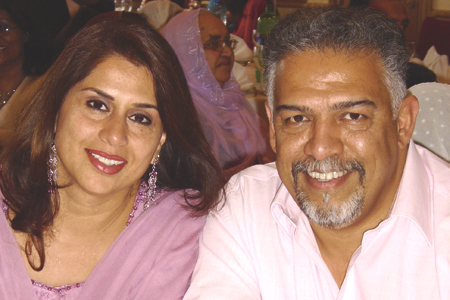 Love Grows
Issue 66 March 2010
25 years into their marriage, Samira and Wamiq discuss how their recently developed love for gardening has brought them closer together.
_____________________________________________________________
Samira
Wamiq and I are first cousins, but I met him for the first time when I was 15. We both lived in Pakistan but in different cities. When I first met him, he'd just come back from England and was 23 at the time. It was only a matter of a few months before my aunt (Wamiq's mum) suggested to my father that they get us married.
I wasn't looking to get married at the time, so when I heard about the proposal I was really confused. I was still very young and it all felt like it was happening so fast.
Wamiq and I spent very little time getting to know one another before he left for England again and the next time I saw him was five years later, when we were to be married. But from what I knew of him and his sister, I trusted that he was a good man and that he'd take care of me.
It was only a few days after we got married that I realised I was leaving my family. That was the most difficult thing for me. Moving to England, a country I had never been to before, was a massive culture shock and having been so spoiled by my father and brothers, I had little idea of the duties a wife has. I was raised with maids and never had to lift a finger. It was a difficult experience; getting to grips with having to do everything myself. But I eventually settled into married life and developed a comfortable routine.
Naturally, there are a lot of adjustments that need to be made when you get married. You're sharing your life with someone else; their habits, their interests, their lifestyle and routine. I fondly remember one evening early on in our marriage when I decided to cook parathas for dinner. For my family back in Pakistan, one or even two parathas were an entire meal but that definitely wasn't the case for Wamiq. After finishing his paratah, he backed away from the table, smiled at me and said, "So, what's for dinner?" Amused as I was, I realised that there's a lot that goes into understanding and adjusting to another person's way of life.
Thankfully, Wamiq has always been very appreciative, so it made adjusting into married life a lot easier. He understood that I was making a great sacrifice by moving miles and miles from my family. For that reason, he took great care of me and continues to do so. When I was diagnosed with arthritis, he attended to my every need – driving me to all my check ups, researching alternative medicines – anything he could think of to help ease my pain.
I've always been more proactive whereas he is the more laid-back type; although no one would guess that considering his confidence and friendly nature. He has a great sense of humour and that has definitely been a God-send in the more trying times.
Recently, he's started to share my passion for gardening. He's almost possessive about the grass! He insists he has to be the one to cut it; it's like his pride and joy. I can't complain, however, as it gives us something to share and adore aside from our four beautiful girls.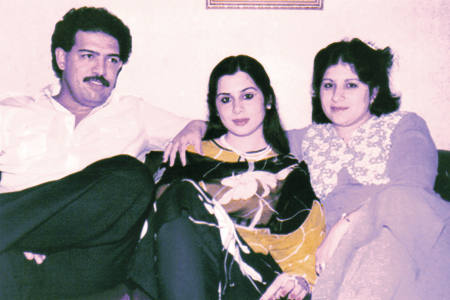 Wamiq, Samira and his sister, Fakhira
Wamiq
The only thing I remember is my mum telling me that I should get married. My eldest sister Fakhira and my mother loved Samira- they had watched her grow up after all.
Samira was beautiful. Being so young, she was introverted and shy but there was always something about her I loved. I still remember seeing her for the first time in her school uniform – she was walking like a penguin and I guess for me, that's what made her stick out from the crowd.
We got engaged in Pakistan in 1979 and I went back to England. In 1984, we were married in London. We had a simple registration; I still remember the white sari that Samira wore. She looked stunning. I knew it would be hard for her to adjust; being from such a loving family, it was going to be difficult for her to be so far away from them in an unknown country. But I was prepared to provide her with the love and support she needed.
I had to work really hard to support us and when she'd ask what time I'd be home, I always replied, 'Around nine.' She'd have dinner all prepared and then I'd end up working to two or sometimes three in the morning. So, instead of going home and warming up the food, I loved getting some hot doner kebab, going home, waking her up and eating with her. I'm sure it must have annoyed her a few times but she never said a thing.
A year later, we had our first daughter, followed by three others a few years apart. It has certainly been an interesting experience living with five women but I'm grateful for them all!
We moved house just over ten years ago and it's been a real journey for the both of us. The years prior to that we didn't get to spend as much time together due to work, but since we moved there's been a lot of time well spent in fixing the house up, getting our kids into school, and my favourite experience - spending almost every hour in the spring and summer in our garden. Samira's passion for gardening has taught me about her love of life.
Her love of life most definitely stemmed from her love of God and her commitment to her faith. Samira has prayed five times a day for most of her adult life but I gave little thought to it before she encouraged me. She is most definitely responsible for bringing me closer to my faith and I am forever grateful to her for that.
Our marriage has confirmed my faith in fate- I know that this was what God had planned for me. The 25 years of my marriage have honestly felt like 25 months, and if I could, I'd live every second of my experience with her again.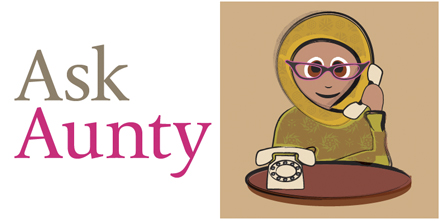 All your marital questions answered by emel's in-house Aunty. Send in yours to aunty@emel.com
Q) My wife recently had a miscarriage and she is so deeply depressed. I desperately want to help her through this, but I just do not know how.


A) I am sorry for your loss. Miscarriages are a source of deep pain but often they are not talked about and thus support can be difficult to find. Despite the fact that miscarriages are so very common, women often blame themselves when a miscarriage takes place. Make sure she knows that you do not blame her. There may be feelings of guilt associated with the miscarriage. Women can blame themselves for all manner of things: working too hard, travelling, having sex. None of these things cause miscarriages. Try and talk about these and other things which she may be thinking caused the miscarriage.Your wife may be shocked by the depth of her emotions, and the feeling of grief. Whilst eventually she will to be move on, there also has to be time to recognise and give credence to the loss. Tell her that it is ok to grieve. You may seem strong to her, but if you feel grief as well, let her know that. Be honest about your emotions.
She may be worrying that she will never have a baby. Generally, miscarriages are one off events caused by a genetic abnormality within the baby. Assure her that when she is ready you can try again, and you will be there with her to support her. Bear in mind that the idea of getting pregnant again can, in itself, be terrifying for some women. The fear that a miscarriage will happen again can take the joy out of subsequent pregnancies. Talk this through with her.She may need time on her own or she may not want to be alone at all. We all react to grief differently. Just try and be there for her, and make her feel as special as possible. If you know that she finds it easy to talk to a particular friend or family member, then encourage that. She is not rejecting you, but may need another type of support at this time.The Prophet Muhammad said of miscarriage, "The miscarried child will pull its mother and father to Paradise by its umbilical cord." Talk to your wife about this beautiful saying. It may provide a healing for her to know that your child can be a doorway to heaven for you both.
The Prophet Muhammad said: "You
will not enter paradise until you have
faith; and you will not complete your
faith till you love one another."
(Sahih Muslim)
Share this


Link to this
Printer Friendly