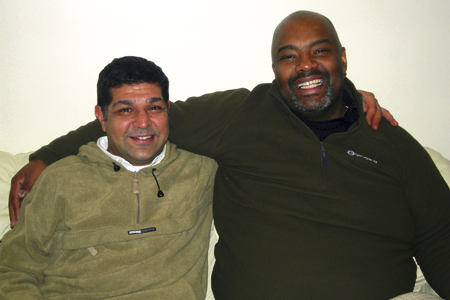 Making Light
Issue 66 March 2010
The jokes of school days seemed far away when Mark lost everything, but the enduring friendship of Mumtaz proved a lifeline.
Mumtaz
I met Mark 25 years ago, when he was a regular customer at my dad's shop in South London. My first impression of him was 'this guy can talk; he's like a radio!' I was only a school boy when we met – Mark was older and in college. I'd tease him by saying something or another and he'd chase me around the shop – it was this kind of playful humour that made us get along instantly.
After Mark got married and moved away to Malaysia, we drifted apart but whenever he came back to London, the first place he would come to was the shop that I was now running. It was 15 years later, when Mark moved back to London, that our relationship developed the way it first began.
Our personalities are very similar; we both love joking around and just having a laugh but at the same time we can spend hours discussing more intense things like religion; although religion is something we differ on -me being a Muslim and Mark a devout Christian. He's now become an Assistant Pastor at his church but we've always respected each other's individual beliefs.
Our backgrounds most definitely differ. I was never interested in education as a child, as I wanted to work and own my own business like my dad, whereas Mark has always been interested in education and wanted to further his studies. Yet we find common ground in the fact that we are both hard working and committed.
Over the years we have been through a lot together. I remember when Mark suffered a heart attack –it was such a difficult time. I remember taking him to the hospital; the doctors rushed around and connected him to all sorts of machines. Given this was his third heart attack, I really thought he wouldn't make it. It was extremely difficult knowing I might lose Mark, who is like a brother to me but I knew I had to be strong for him and we got through it the way we got through our entire friendship; by making light of the situation.
All the experiences we have been through have strengthened our bond. Mark is always there - not only for me but for all of my family.
Mark
I first met Mumtaz in my local shop in South London. He used to come and help his dad out after school and on the weekends. The shop was our local hang out where all the boys would get together; a real, friendly environment.
Our friendship developed the more we got to know and understand each other. Although we didn't see much of each other when I moved to Malaysia, he was the first person I would come to see when I came back to London.
We're very similar in the sense that we like to laugh a lot and use humour as a tool to get through life. But although we share humour, we have opposing views on many things. We follow different religions and do debate a lot about our beliefs but ultimately we are people of the book and believe in the same God. We respect each other's view and this is what keeps our friendship going.
Mumtaz always says we are different as I went to university and studied and he didn't. But he is extremely intelligent- he underestimates himself!
When I had a heart attack, I was really scared I was convinced that I had reached the end of my life. The doctors asked me for my next of kin. At that time, my daughter was studying for her exams and I didn't want to worry her, so I asked Mumtaz if I could put him down as my next of kin and he of course agreed. Mumtaz was really there for me and it was only due to his positivity and support that I got through it.
What makes our relationship so strong is I can talk to Mumtaz about anything; he is my sounding board and will always advise me in the right way.
There was a point when I had lost everything: from my home to my business and I didn't have the will to live any longer. I asked Mumtaz to take care of my baby girl for me and he realised what I meant. He sat me down and spoke to me for hours. He told me to think of my daughter and her upbringing and of course, my relationship with God. He bought me back to reality and made me realise that life was a gift. To put it simply, he saved my life. If it wasn't for his support 
and comfort, I wouldn't be here today.
Share this


Link to this
Printer Friendly