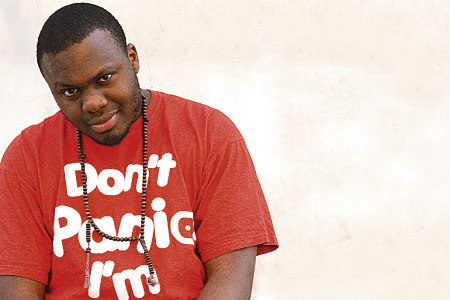 Watch This Face - Nabil Abdul-Rashid
Issue 69 June 2010
At 24, Nabil Abdul-Rashid has become the youngest black comedian to perform stand up at the Hammersmith Apollo. As a British Muslim of North-Nigerian descent, Nabil entered the 'Which Religion Is Funniest?' competition after stumbling across the Facebook page. After uploading a short video of himself, which he originally thought had failed; Nabil was surprised to learn his video was receiving votes from viewers. After reaching the Top 10 spot, he was crowned joint winner of the national competition, judged by The Infidel's David Baddiel and Omid Djalili.
As an aspiring stand-up comic for the past 18 months, Nabil has managed to perform at over 300 gigs. Citing religion as a huge catalyst for comedians, Nabil names Woody Allen, Chris Rock and Dave Chapelle as the comedians who inspire him the most. "I like a lot of the old Jewish comics; at the time Jewish comedy was at its peak, Jews had to deal with a lot of stigma." It was a similar frustration of feeling persecuted after the 9/11 attacks that led Nabil to embracing comedy as a vessel of expression, "you can hit a punching bag to exert your frustration but you can't hit racism or fundamentalism."
Nabil is now looking to establish a comedy workshop for inner-city youth.
Soon to embark on a religious comedy tour entitled "Don't Panic, I'm Islamic!" there is no doubt that Nabil will take stages across the UK by storm.

For bookings, email
shabazz.agency@live.com

Portrait Mahmuda Begum
T-shirts for men : https://www.hellenwoody.com/en/men/t-shirts/t-shirts.html
Share this


Link to this
Printer Friendly