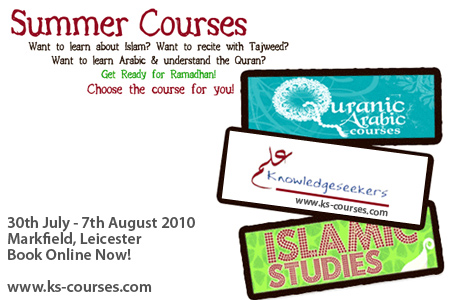 Summer courses to prepare for Ramadan
Issue 70 July 2010
Prepare for Ramadan the right way by developing yourself through three inspiring summer courses that promote the development of a positive change around you. The courses by KnowledgeSeekers runs from 30th July to 7th August 2010 at the Markfield Conference Centre in Leicestershire.
The Introductory Level Islamic Studies Course will give you a basic and broad understanding of Islam. It covers Aqeedah, Fiqh, Seerah and much more. This is suitable for people just starting to get a bit more understanding or want to revitalise the knowledge they already have. For more information, visit the website.
This intensive Tajweed course is in partnership with Beacon Institute and aims to help perfect your recitation of the Holy Qur'an. It is able to cater for people of all abilities as everyone is asessed individually at the beginning of the course. You will be learning form esteemed scholars, both male and female, who have studied Tajweed extensively. For more information, visit the website.
The three levels of the Qur'anic Arabic course guarantees that one will be right for you regardless of your knowledge of Arabic. It is based on the series of books by Abdul Wahid Hamid and this course is taught by his students. For more information, visit the website
Share this


Link to this
Printer Friendly