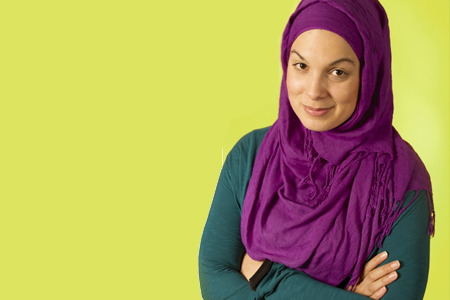 Denise Horsley
Issue 77 February 2011
Denise Horsley, teaching assistant and dance teacher, embraced Islam in 2009 aged 25.
I embarked on a systematic study of Islam and other religions after being introduced to it by a man I was dating. The more I read the more Islam made sense, and I would read the Qur'an for hours in the library of Regent's Park Mosque. I decided to attend the taraweeh prayers during Ramadan. I sat in my car nervously beforehand researching how to pray. Once I began I was overcome and knew I was hearing the word of God. Like the Bible, the Qur'an mentions prophets, angels, miracles, good and bad deeds, reward and punishment, repentance and forgiveness, heaven and hell, Adam and Eve, the Torah, the Gospel and many other things that are familiar to Western tradition. Yet the questions that had lingered in my mind since Catholic school were finally answered.
I was a professional dancer. I also taught dance to supplement my income. Once I accepted Islam I focused on that and am now a teaching assistant at a primary school where I also teach dance.
My family were intrigued and happy I'd found something I was so passionate about. It took me a while to stop being worried about people's reactions, but once I'd found my feet and was honest with myself and others, everything got a lot better. My family worried that I had converted for the wrong reasons, i.e. for my then boyfriend (now fiancé) but I do hope one day they'll see that it came from my heart.
It has been an amazing journey. It is important to remember that you are still you and where you have come from should never be forgotten. God has created you and taken you on your life journey for a reason, so let people see the beauty of Islam through you.
Share this


Link to this
Printer Friendly