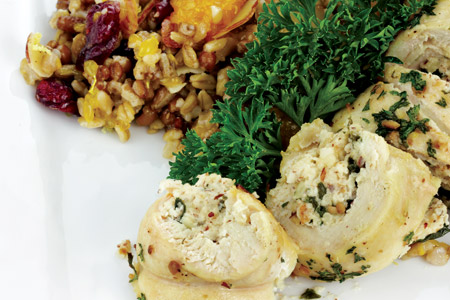 Cooking with Dates
Issue 94 July 2012
Fresh dates are an amazing source of nutrition and often a preference for when breaking one's fast. Fatema Zehra brings you a selection of interesting dishes using dates as a key ingredient.
Chicken stuffed with spinach and dates

Ingredients
1 onion, thinly sliced
2 garlic cloves, sliced
Olive oil
4 ready-to-eat dates, finely chopped
200g spinach, chopped
2 tsp ground cumin
4 skinless, boneless chicken breasts
2 tbsp pomegranate syrup or honey
Green beans, to serve
Audemars Piguet Replica Watches
Method
Heat the oven to 200°C/fan 180°C/gas 6.
Cook the onion and garlic in a non-stick frying pan with a splash of olive oil and some seasoning for five minutes, and then add the dates, spinach and half the cumin. Cook for another minute or two.
Cut the chicken breasts lengthways so they open like a book. Divide the stuffing between the breasts and put in a shallow baking dish.
Rub the remaining cumin over the chicken and season. Drizzle over the pomegranate syrup or honey then bake for 20 minutes. Serve with green beans or couscous.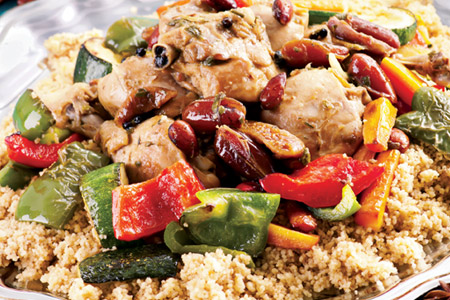 Spiced chicken, herb and almond couscous

Ingredients
4 skin-on, bone-in chicken thighs
Red onion, halved and sliced
425ml hot chicken stock
Pinch of saffron strands, optional
1 fat red chili, sliced
500g couscous
2 x 20 packs coriander, leaves only
50g toasted whole almonds
Handful of dates, roughly chopped (medjool dates)
Juice of ½ lemon
2 tbsp sunflower oil
3 garlic cloves, sliced
Rolex Replica Watches
Method
Toss the chicken thighs in half the spices and a pinch of salt until completely coated.
Heat one tablespoon of oil in a large sauté pan with a lid. Fry the chicken, skin-side down, for 10 minutes until golden brown, turn over, then cook for two minutes before removing from the pan.
Pour the rest of the oil into the pan, then fry the onions and garlic for eight minutes until golden. Stir in the rest of the spices, and then cook for one minute longer.
Pour over the chicken stock and scatter in the olives. Bring everything to the boil, turn down the heat, and then sit the chicken, skinside up, in the stock.
Cover the pan with a lid, and then simmer gently for 35-40 minutes until the chicken is tender.
Put the kettle on, then lift the chicken onto a plate and keep warm. Take the pan off the heat. Stir the lemon juice and couscous into the saucy onions in the pan and top up with enough boiling water just to cover the couscous if you need to.
Place the lid back on the pan, then leave to stand for five minutes until the couscous is cooked through.
Once the couscous has absorbed all the stock, quickly chop the coriander, then fork it through the couscous with the almonds, dates and lemon juice and serve straight away.
To serve cold, leave to cool, then add the chopped coriander just before eating.

Share this


Link to this
Printer Friendly