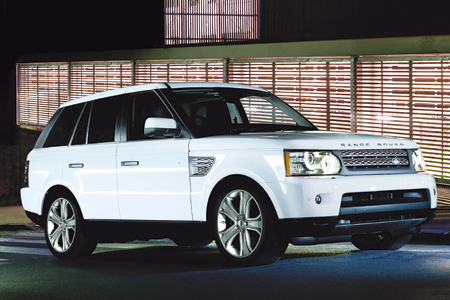 Land Rover's New Baby
Issue 78 March 2011
Range Rovers have always oozed class and confidence. Fazeel Ashraf marvels at the new 2010 Sport diesel, as he finally whisks one around town.
It's getting crowded out there in the land of 4x4. It seems a week doesn't go by without another manufacturer adding a 4x4 to its line-up, yet it's Land Rovers that always seem to get the accolade for the ultimate 4x4. Having driven various Range Rovers I can certainly attest to the fact that they are one of best-built vehicles on the road. Some may say having Range Rover and Sport in the same phrase is an oxymoron, especially when you have a diesel engine attached, but I'm not going to make up my mind until I've covered a few hundred miles.
So, the 2010 version I'm driving has gone through various facelifts and revisions since it was first launched, but the biggest and most important development is the new twin turbo 3-litre TDV6 diesel engine. Tried and tested in the current Jaguars, it's managed to find its way into the Sport. The basic shape retains it's 'boxiness' but there is a new redesigned grill, along with a few LED lights bolted on—it still manages to retain its air of authority and clout over other 4x4s. The Sport is the cheapest way to enter into the world of Land Rover, but with prices starting at £47,000 it still isn't exactly pocket change.
The engine is a peach: smooth and silky, working hard low down and ready to come alive when you extend your right foot. This oil burner lays claim to some credible figures. 245 bhp coupled with 442 lb/ft while at the same time delivering just over 30 miles to the gallon—a vast improvement on the outgoing version.
The Range Rover Sport does the smooth stress free driving thing admirably and there's a depth of chassis aptitude when you want to extend it. For a vehicle that's banging on the door of almost 2.4 tonnes, the Range Rover Sport snips along nicely. Rest to sixty will come in a smidgen over 8 seconds, and all you have to do is sit back and immerse yourself in its ambience. It is easy to get into the groove of the Sport and even with the diesel engine you are insulated from outside disturbances with only the faintest of engine sounds filtering through.
Despite being one of the larger vehicles on the road there's not as much space inside as one is initially led to believe. Yes, five adults can sit comfortably but the way the dash is arranged provides a more intimate setting. It's almost like the dash was designed around the driver's seat so you feel in command at all times—not necessarily a bad thing, but some may find it a little cramped for a vehicle of this stature. However, there is a vast improvement on the interior. While it won't win any Tate design awards, it's a practical blend of rugged functionality with a streak of elegant refinement. Gone are the copious amounts of plastic to be replaced by solid and simple controls. Most of the cars functions can be controlled via the dash-mounted touch screen and comes equipped with all the usual bells and whistles. But the party piece of the Range Rover Sport is its Surround Camera System. The vehicle has no fewer than five digital cameras strategically placed around the car providing a 360-degree outward view to speeds up to 11 miles per hour. It makes manoeuvring 2.4 tonnes of steel as easy as pie. Even my mum, who drives a Supermini, could manage to park this car. The images are all displayed on the touch screen and can even be zoomed into.
I expected to be able to fit my whole house into this car - like its big brother, but it's somewhat compromised not feeling much bigger than a good-sized estate. That said, as long as you can kick a few passengers out, the rear seats can be folded and once down, open up a vast chasm.
Like the majority of Range Rover Sports owners, I didn't get the chance to check out its off-road ability. It has all possible off-road modes and a small selector behind the gearstick allows to you choose the type of terrain you would like to negotiate, whether it be snow, gravel or even a mountain climb—and no, driving up the grass verge outside the local prep school doesn't count as an off road expedition in my books.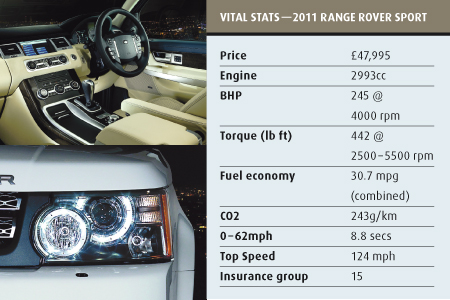 How does it compare to some of its rivals? Well, it doesn't quite have the agility or directness of either the BMW X5 or the Porsche Cayenne. It probably feels even a little smaller on the inside than the other two, but they can't match the Range Rover on pedigree or its sense of conviction as you glide along.
I came away with from the Range Rover Sport with mixed emotions. While there's no doubt it's a competent car worthy of the Land Rover badge, there is a small part of me which would want to spend just the little bit extra for the full size Range Rover—not just for the increased interior space, but when I was stationary at traffic lights and a standard Range Rover pulled up next to me, it made my car feel almost midget like; and it's not like the Range Rover Sport is small. Is it worthy of having the name 'Sport' attached to it? Well, they had to name it something and somehow I don't think Baby Range Rover quite has the same ring to it.
www.landrover.com
Share this


Link to this
Printer Friendly