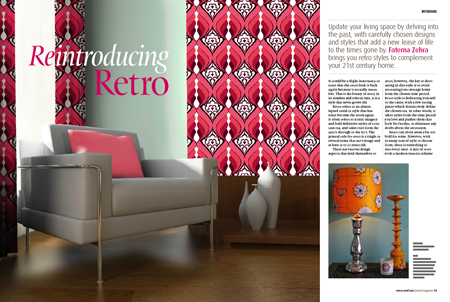 Reintroducing Retro
Issue 79 April 2011
Update your living space by delving into the past, with carefully chosen designs and styles that add a new lease of life to the times gone by. Fatema Zehra brings you retro styles to complement your 21st century home.
It would be a slight inaccuracy to state that the retro look is back again because it actually never left. That is the beauty of retro; in its timeless and eclectic mix, it is a style that never grows old.
Retro refers to an almost lapsed trend or style that has since become the norm again. It often refers to iconic imagery and bold definitive styles of a certain era, and takes cues from the 1950's through to the 80's. The general rule for retro is a single or several items that are vintage and at least 15 to 20 years old.
There are various design aspects that lend themselves to retro; however, the key to decorating in this style is to avoid recreating your average home from the chosen time period. Retro style is dedicating yourself to the cause, with a few strong pieces which distinctively define the chosen era. In other words, it takes styles from the time period you love and pushes them that little bit further, to eliminate any doubt about the recreation.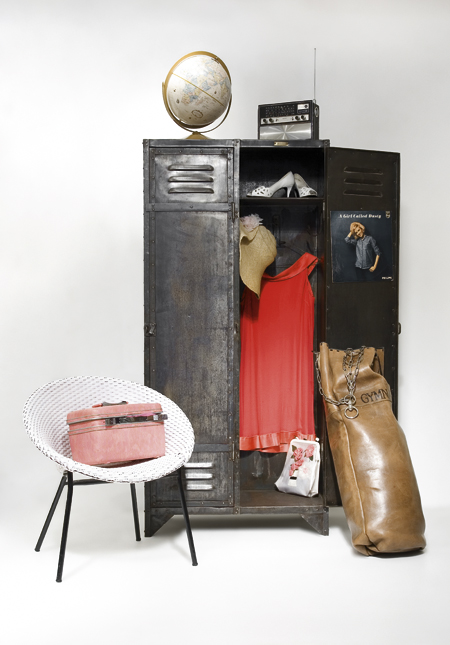 Retro can often seem a bit too bold for some. However, with so many eras of style to choose from, there is something to suit every taste. A mix of retro with a modern interior scheme complements a room beautifully.
However, it must be said that experimenting with the retro style by mixing vintage pieces, with simply an 'old' interior scheme can backfire; leaving a room looking outdated. Retro doesn't need to be complicated or expensive, but merely a combination of carefully chosen colours, prints or vintage items that are thrown into a vintage or modern backdrop with confidence.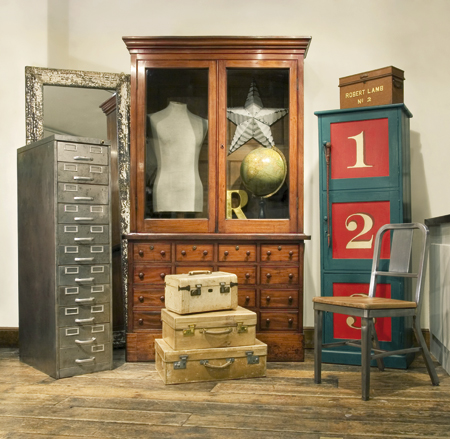 A retro theme in interiors can lend itself well to an environmentally friendly and ethical principle, by adopting the rules of 'reduce, reuse and recycle'. Many of our parents and grandparents may own great pieces that fit well into this theme, which can easily be enhanced by bold wallpaper prints or colours that pop, such as vibrant blues, mustards and for the incredibly brave, bright pink!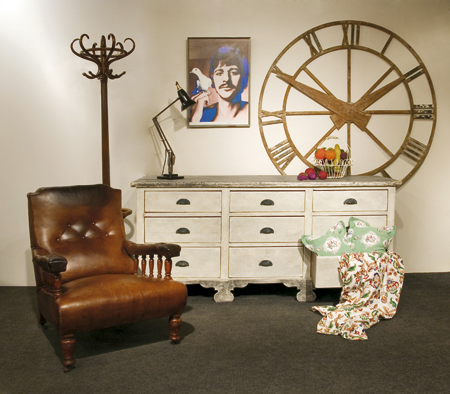 Certain vintage styles can be adopted from eras that took inspiration from nature and incorporated arabesque and repetitive designs such as that of William Morris. Vintage pieces can be found in excess at charity shops, car boot sales and second hand stores. Online stores such as etsy.com and second hand stores such as Oxfam are great community bases for buying and selling vintage and old or second hand items. The retro theme is great for updating an average interior scheme with old vintage pieces and creating a truly timeless and unique look.
All items above from a selection at The Old Cinema.
TOP TIPS: How to reintroduce retro to your living space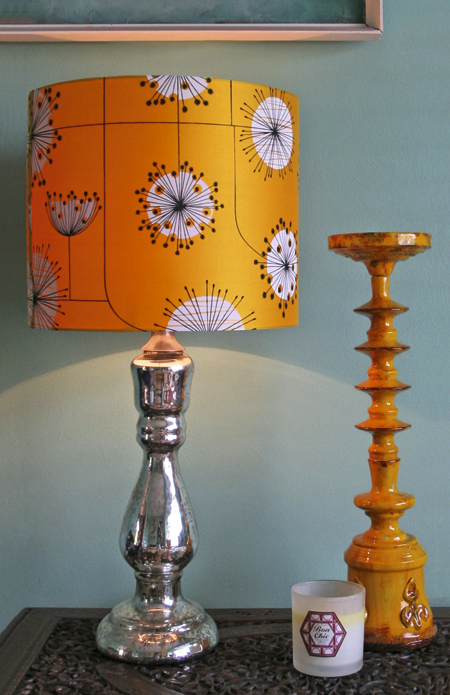 Dandelion clock shade with mirrored base, boho painted candlestick, drumbase lampshade; all from a selection at Berry Red.
1) Bold patterns and colours, if carefully chosen, can instantly update a room into a retro scheme. Large patterns can be brought into a room with well chosen wallpaper, paint or murals. Alternatively, furniture can be revamped using bold fabrics and coordinating textiles. Keeping the colour palette to a few colours will avoid the room looking scattered and chaotic.

2) For a more subtle approach, mix smaller and geometrically repetitive patterns with neutral and muted tones and shades. Adopt pastel variations, alongside some bold options from original retro schemes. Mixing solid colour bases with smaller quantities and style of patterns will help implement a lively, retro theme into your living space.

3) Think about shapes. Curved edges and circular forms are classic characteristics of retro. Mix this with modern furniture pieces to create a beautiful partnership. Alternatively use modern furniture upholstered with retro print fabrics to create a bold statement. The arrangement of modern design with classic retro pieces works well to update a room and give it a unique touch.

4) For a bolder design statement, combine modern minimalism with carefully chosen retro pieces that carry similar principles of simple curves and lines. Create key focal points with interesting retro pieces that are highlighted in a simple uncluttered space. Utilise the stark opposites that can be present in both styles to create a room that speaks true of beautiful design.
Share this


Link to this
Printer Friendly