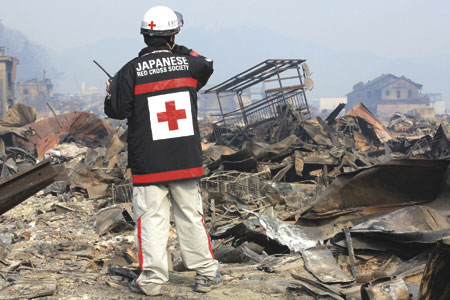 Shaken Japan
Issue 80 May 2011
One of the worst natural disasters in history has brought Japan to a complete standstill. Ali Khimji takes a look at the situation, a month after the initial devastation occurred.
On Friday 11 March, an earthquake measuring 9.0 on the Richter scale, struck 72km off the eastern coast of Japan. Triggering a tsunami, the resulting waves rose to heights of over 120ft, with some travelling up to 10km inland.
Tsunamis are a series of tidal waves caused by the displacement of a large volume of a body of water. Earthquakes, volcanic eruptions, landslides, underwater explosions, and even meteorite impacts have the potential to cause tsunamis.
To date, the Japanese National Police Agency has confirmed over 12,000 deaths, 2,500 casualties and 15,000 people missing. There are over 150,000 people in shelters around the region. Early estimates suggested insurance payouts would range between £9-20 billion, but on 21st March, the World Bank revised this figure to between £75-140 billion. Japan's government then amended this figure further to over £180 billion, making it the world's most expensive natural disaster on record.
There are over 50 nuclear power stations around Japan, as nuclear energy is a priority for the country due to its dependence on imported fuel. All the nuclear power stations around the area were automatically shut down following the earthquake, but a cooling period is required following this, in order to remove decay heat and to maintain spent fuel pools. At Fukushima Nuclear Power Plant, tsunami waves destroyed the diesel backup power systems and two large explosions and radioactive leakage followed. Residents living within a 20km radius of the plant were evacuated, and authorities are talking about extending the evacuation zone further.
Engineers have been battling to contain the nuclear crisis ever since, and the latest episode involved blocking radioactive water from the reactors leaking into the ocean, after seawater was found to have 7.5million times the legal limit. Earlier efforts to plug the leak involved cement, but workers successfully achieved it with sawdust, newspaper, concrete and a type of liquid glass.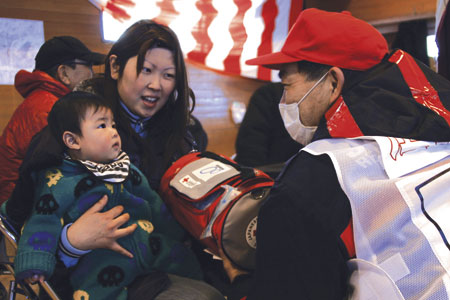 There are worries about contaminated food around the country, and the government is considering restrictions on seafood after contaminated fish were found. India has banned all food imports from Japan over radiation fears. Trace amounts of radioactive iodine were also found in spinach in three Chinese provinces. Reports have found that minute levels were detected in Europe, but officials have already said they are too low to pose a health hazard. Ireland confirmed that it had been found in milk samples, but an individual would need to consume at least 100,000 litres in one day for it to cause harmful effects. However, the European Union has unveiled restrictions on food imports from Japan as a precaution.
Many other countries put their own nuclear power plans on hold, after seeing the unfortunate set of events that unfolded in Japan. In Germany, tens of thousands of people came out into the streets to protest against the government's plans to extend the lives of 17 nuclear power plants, to which the government responded by ordering immediate safety checks. Nick Clegg, the UK's deputy prime minister, has said the global uncertainty surrounding the nuclear industry may increase liabilities and offset any potential savings. However, Poland is still determined to push ahead with its own plans to build its first nuclear power station over the next decade.
Earlier this month, another earthquake struck the north-eastern coast of Japan. It was measured at 7.4 on the Richter scale, and people in the area were evacuated immediately as a precaution, with reports suggesting waves of up to two metres hitting the coastal area. Hundreds of aftershocks followed the 11th March quake, but none to this magnitude.
Innovative ways to donate have been utilised to help those in need in Japan. Facebook, iTunes and the online PlayStation Store have offered payment options. Within 12 days, the PlayStation store had raised over $1million, and Sony have stated that the amount will be distributed amongst all the regions affected by the tsunami. Google also made use of its Crisis Response Page, to allow people to find missing people and provide up-to-date news alerts on the situation. Within an hour of the earthquake in Japan, Person Finder went live and in three weeks, 600,000 contact entries were made, and it was reported that many people were reunited this way.
There has been some debate as to whether we should donate to those afflicted, as Japan is a wealthy country, but as the Prophet has said: "Give to a beggar even if he comes on a horse." (Malik)
For information on how to donate to the Japan Tsunami Appeal, please visit: www.redcross.org.uk
PHOTOGRAPHY JAPANESE RED CROSS
Share this


Link to this
Printer Friendly