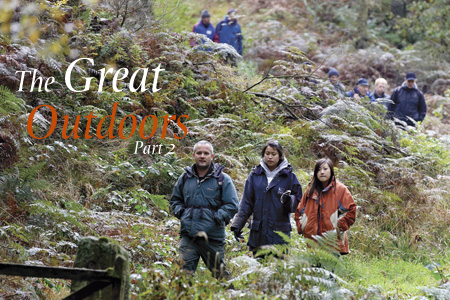 The Great Outdoors - Part 2
Issue 82 July 2011
We all dream of that relaxing break away from the chaos of every day life. Khadija Gulamhusein looks at the South Downs National Park and the Peak District National Park as the ideal location for achieving that longed for getaway.
In the hustle and bustle of daily life, it's rare to find moments of calm and tranquillity. Life seems to flash by; the hours blur into days, and the days into weeks. I find myself constantly rushing — rushing to make the 8:05 train, rushing to get through the day's work, rushing to make it home in time for dinner. And in the frenzy of getting through everything that needs to be completed, I subconsciously filter out my surroundings, particularly the natural environment. I fail to notice the vibrancy and colours of the flowers in bloom, or the piercing blueness of the summer sky.
And yet when I have the time to reflect and connect with what's around me — the majesty and flawlessness of God's creation — I feel instantly uplifted. It instills a calming sense of peace and well-being.
Rather strangely, it seems natural to search for extraordinary beauty outside our own locality, but the breadth of God's mercy has ensured its omnipresence. It isn't necessary to travel thousands of miles, across oceans or continents to have our breath taken away. National Parks like the South Downs and the Peak District are classic examples of ravishing beauty within our vicinity.
To read more about the South Downs and the Peak District, as well as gain access to exclusive videos, plus behind the scenes footage and more interactive content, log on to http://digital.emel.com to get your digital issue today.
Share this


Link to this
Printer Friendly