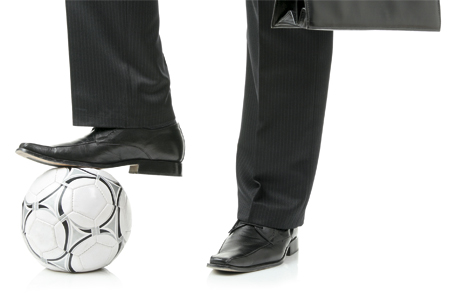 The Finances of Football
Issue 83 August 2011
With UEFA's Financial Fair Play rules being applied to clubs all over Europe, Ali Khimji analyses the regulations and the measures that clubs will take to meet the requirements.
On June 1st, UEFA's Financial Fair Play (FFP) rules came into effect for football clubs around Europe. The motivation behind them is to bring an end to clubs spending beyond their means and building up masses of debt, then relying on a generous benefactor to splash the cash in order to bail them out. It is hoped that the measures will move clubs towards breaking even over the next three seasons.
Michel Platini, UEFA President, has made financial reform his top priority since being voted into office in 2007. A UEFA report found that 50% of Europe's top-division clubs make losses each financial year, and a further 20% make even larger losses. The other growing concern was wealthy financiers buying clubs, resulting in a club's future being inexplicably linked to the financial fortunes of the owner. UEFA also argued that wealthy clubs inflated player wages that others had to pay.
The FFP regulations state that over the next three years, clubs will only be allowed to record maximum losses of €45m across the whole period. To put this into context, Chelsea and Manchester City announced annual losses of £70.9m and £121.3m in January this year.
Those losses can be subsidised by an owner but only if the money is permanently invested in return for shares. However, if an owner cannot subsidise the losses, the maximum losses that can be made over the three year period is €5m. Although the rules were set out to level the balance of power between clubs in Europe, this clause could arguably be said to favour clubs with wealthy owners.

To read more of this article, as well as gain access to exclusive videos, plus behind the scenes footage and more interactive content, log on to http://digital.emel.com to get your digital issue today.
Mens Trousers https://www.hellenwoody.com/en/men/bottoms/causal-pants.html
Share this


Link to this
Printer Friendly