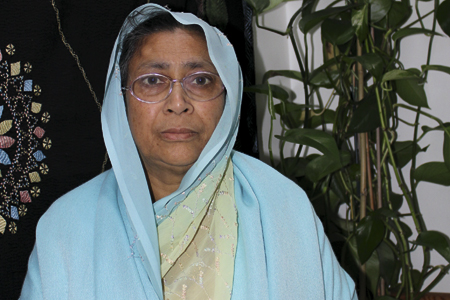 Empowering the Settler
Issue 83 August 2011
When Husna Ara Begum arrived in the UK, the freezing weather and industrial landscape weren't the only shock. Battling racism on the streets of Mile End, she worked hard to empower the Bangladeshi community to stand up against the abuse.
I was born in Sylhet, in what was then known as East Pakistan in 1948. As the youngest child, I grew up alone as two of my sisters died young and one died after marriage. I didn't have any brothers but I was surrounded by plenty of cousins, who I treated as my siblings; six brothers and four sisters, to be exact!
I married someone who lived in the town adjacent to us, called Minikhola. A month after the wedding, my husband and I moved to Islamabad in Pakistan as he worked for the Foreign Office. As Bangladesh was part of Pakistan, the capital city Islamabad contained all the civil and diplomatic services, thus our move was imminent.
After nine months of living in Islamabad, my husband was posted to Saudi Arabia and so once again, we had to move— this time to the city of Jeddah. We lived there for four years until the War of Independence began in Bangladesh. For the first five months of the war, we returned back to Islamabad but we lived under very difficult circumstances. Our every move was watched by the Pakistani security services and we weren't trusted by anyone as many were suspicious that we were involved with the independence movement in Bangladesh. I had three young children at the time and I was constantly worried about their welfare. We promptly moved back to the relative safety of Saudi Arabia — or so we thought. We were helped by friends in the Pakistani embassy in Saudi, who vouched for our integrity. We stayed there for nine months as the war raged on. I remember praying regularly for it all to end.
To read more of this article, as well as gain access to exclusive videos, plus behind the scenes footage and more interactive content, log on to http://digital.emel.com to get your digital issue today.
Share this


Link to this
Printer Friendly